Psychoactive Substances Bill: What's banned and how are they checked?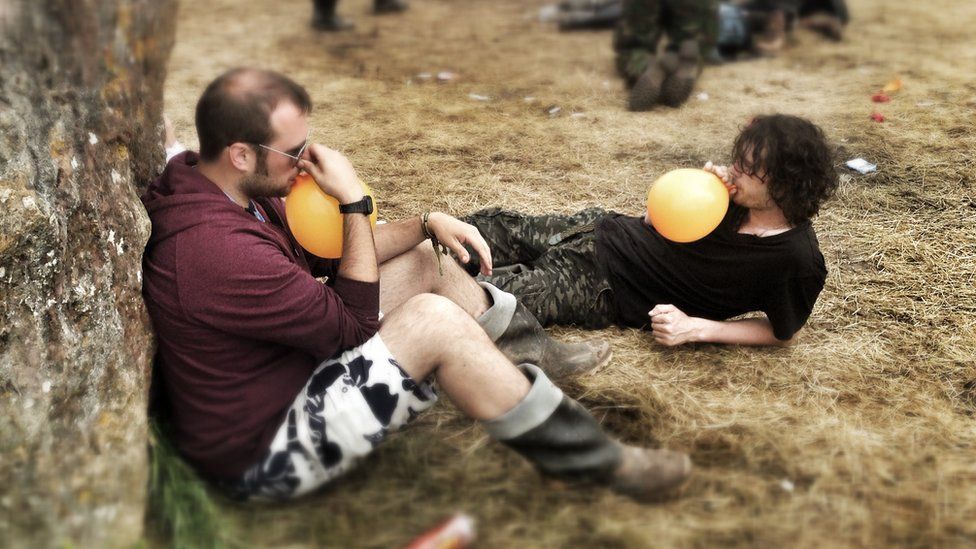 The government is setting out new drug laws on Friday which seek to ban all psychoactive substances - or drugs which affect the human brain.
Among the banned substances are "poppers" and nitrous oxide (or laughing gas), which could both carry a seven-year sentence for those caught selling them.
The Psychoactive Substances Bill, which follows similar legislation in Ireland, introduces a blanket ban on the production, distribution, sale and supply of legal highs.
More than 500 new drugs have been banned by the government since 2010 but the current system is seen as labour intensive as substances have to be assessed individually before being outlawed.
Suppliers often produce new versions almost immediately after a previous form has been banned and the process begins again.
In fact, the process is so long-winded that by the Home Office's own admission the official published list of banned substances hasn't been updated since 2012.
That means many substances which are banned don't even appear in official legislation.
The 2012 list includes Alpha-3-Acetoxy-6-Methylanino-4,4-Diphenylheptane from your Ethylmethylthiambutene.
They're both class As. And we can't even say them, let alone have any idea what they do.
The new law will supposedly speed the process up with a blanket ban on supplying or creating any new legal high.
In short, if it alters your brain function, it'll be banned.
But the laws are confusing because that term - psychoactive - used in the bill could include, theoretically, anything that tastes familiar or reminds you of something - because that's a mental reaction.
The act will supposedly make allowances for food items designed for human consumption, so chocolate, for example, is safe.
But some campaigners say the bill as it's currently phrased is far too ambiguous.
What if new drugs were baked into food and sold in the same way as at a village fete? Are they then illegal?
What about food ingredients like colourings and flavours which aren't food, but are available for public consumption?
The bill hasn't passed into law yet, so we imagine all these issues will be sorted out in time.
Substances such as alcohol, tobacco, caffeine, food and medical products will be excluded from the scope of the offence, as will controlled drugs which are already covered by older legislation.
So laughing gas, which is used as an anaesthetic and in the production of whipped cream, will still be legal for those purposes.
But selling it to inhale will be a crime.
Those in favour of reform say it's necessary.
Maryon Stewart, who founded the Angelus Foundation after her 21-year-old daughter Hester died after consuming the then legal drug GBL, said: "We expect the law to impact very significantly on the high street trade.
"The open sale of New Psychoactive Substances (NPS) has led to dangerous experimentation with many young people being badly affected by their unpredictable effects and some ending up in hospital.
"Sadly, too many have paid the ultimate price from taking these risky substances and this change will go a long way to stop further deaths."
Rosanna O'Connor, director of alcohol, drugs and tobacco at Public Health England, said: "The risks for users of new psychoactive substances can be particularly high especially when so little is known about their content, which can be dangerous and in some cases lead to death.
"A ban would aim to reduce the easy availability of these substances, but we also crucially need to continue to focus on preventing and treating the harms that they can cause."
But not everyone is in favour.
Professor David Nutt, former chief drugs adviser to the government, described the move as "utterly pointless".
He said: "It will make no difference. People will just go back to cocaine and heroin.
"If you close down the head shops, people will just go to the back streets and it will all be underground.
"It is an extraordinarily simplistic and retrograde step. It won't reduce harm, it may well increase harm."
He says legal highs are "considerably safer" than class A drugs such as cocaine and heroin.
For advice and support on drugs and issues around drugs, check the BBC Advice pages.