How Florence conquered Glastonbury
By Anna Doble
Newsbeat online editor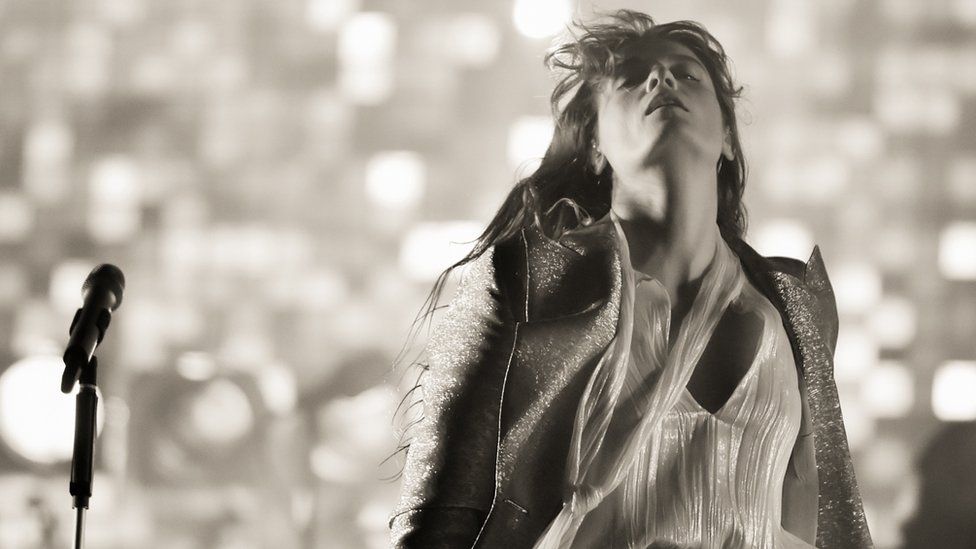 Everybody agrees Florence Welch seized her moment at Glastonbury on Friday night.
She was moved into the top slot at short notice when Dave Grohl broke his leg, forcing his band Foo Fighters to pull out.
Arriving on stage barefoot she dazzled the crowd with energetic jumps and a set that included a cover of Grohl's song Times Like These.
"Dave if you're listening, we love you. We all love you," Florence declared.
At the end of the 15-song performance, which also featured classics Rabbit Heart (Raise it Up) and Dog Days Are Over, she left the stage in only her bra and trousers.
So how did she get here? We look at some key moments in Florence's journey from shy teenager to Glastonbury headliner.
Florence grew up loving Green Day, reading lots, climbing trees and fronting a band called the Toxic Cockroaches. She later revealed how she and a close friend "entered this world of art students and these amazing crazy parties and gigs" when others were revising for their GCSEs.
Florence's band name is a joke, by her own admission. "I made music with my friend, who we called Isabella Machine to which I was Florence Robot," she explained. On the way to a gig she hastily merged their alter egos, but found Florence Robot/Isa Machine a bit too long - and annoying. So Florence and the Machine was born.
A conversation in a club toilet changed everything for Florence in December 2006. Florence was "really drunk" at a night hosted by DJ duo Queens of Noize. We all know singing in the loos sounds amazing, so imagine what it's like if you've got a pair of lungs like Florence? She belted out Etta James's Something's Got a Hold on Me and in that moment realised "I'm a singer".
Florence had her first big break with BBC Introducing in March 2008, performing Between Two Lungs for the first time. In the autumn of that year she did a session with Steve Lamacq, singing what would soon become household numbers, Kiss with a Fist and Dog Days are Over.
Florence is well known for her slightly mad and brilliant videos. In an interview with the NME she described the plotline to the Rabbit Heart promo as "a twisted midsummer night's dream".
A lot of people think You've Got the Love is an original Florence song. So powerful was her version of the Candi Staton classic, it transformed Florence from woodland sprite into disco dame. And it paved the way for second album Ceremonials in autumn 2011.
Florence finally, fully, moved out of her mum's house in south London, earlier this year. She later explained how she'd got into the zone to record her third album, How Big, How Blue, How Beautiful, by keeping away from distractions, eating well and trying not to go out too much. "I think living on my own for the first time showed me that I was actually quite sensitive," she told The Guardian newspaper.
No-one wanted to see X-ray pictures of Dave Grohl's shattered fibula. But when the inevitable announcement came that Foo Fighters were pulling out of their Friday night headline slot at Glastonbury, the solution seemed obvious. And oddly enough, Welch broke her foot on stage at Coachella in April.