Aussie cricketers: Top order crashes and nappy brain
By Mike Williams
Newsbeat Reporter in Cardiff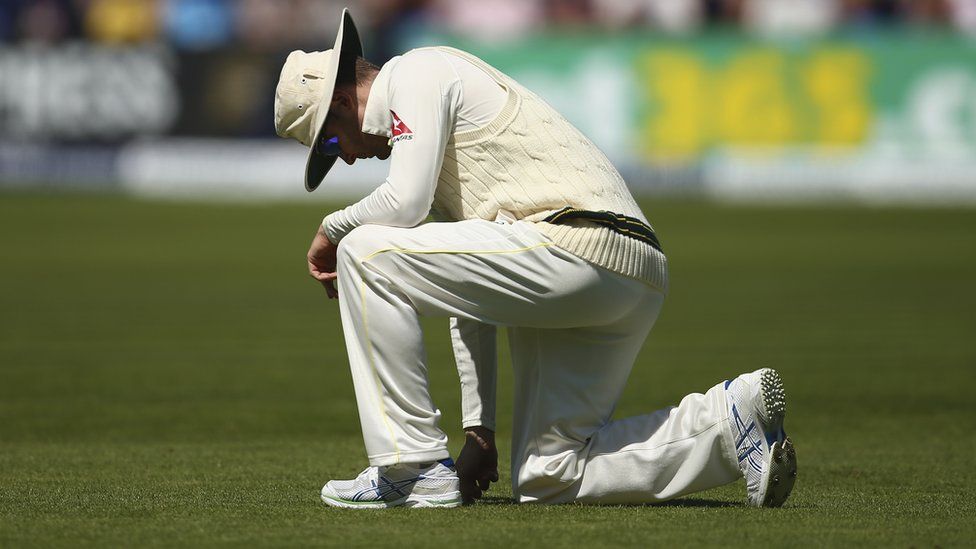 For English cricket fans there are few sweeter sights than an Australian losing.
After their crushing defeat in the First Ashes Test there were plenty of aggrieved Aussies to be found on the streets in Cardiff.
Michael Clarke's side need to pick themselves up, after trailing the five match series 1-nil, before the start of the Second Test on Thursday.
Many travelling fans have an opinion on why their side lost.
Nick was quick to point the finger at individual players who had disappointed with the bat:
"We had so much expectations of [Steve] Smith, [Michael] Clarke and especially [Shane] Watson, we all thought this was would be where Watson could show us what he is worth, but he really let us down".
Jenny wanted to see more from the captain: "Clarkey [Michael Clarke] only made 4, he's meant to be our captain. He just got nappy brain."
(By the way, nappy brain is apparently when your mind is affected by pregnancy. Clarke recently announced his wife is expecting for the first time. We think that's what Jenny meant!)
John agreed: "They threw away a couple of cheap wickets in the first innings and [playing] the second innings on a fourth day pitch definitely showed".
Patrick thought a lot of Australia's problems stemmed from their tactics in the field:
"The English were all over their fielding in both innings, they were really on top of it.
"It just seemed like every time they were batting they were getting 4s and finding the gaps really easily, we just couldn't do the same."
Dean didn't mince his words when summing up the difference between the two sides:
"We didn't play well enough, England were clearly the better team.
"They batted and bowled better than us and we dropped our chances, very simple, we were dreadful."
However you can always find some Australian cricket fans who will talk up their team's chances no matter how they have just performed:
"We will come back in the next 4 tests and win 4-1" says John.
James agrees, telling us: "It's only the first match in a 5 match series, we'll come back from it. Back in 2005 we won the First Test and ended up losing 2-1, we'll be alright."