Countries which could push the nuclear 'red' button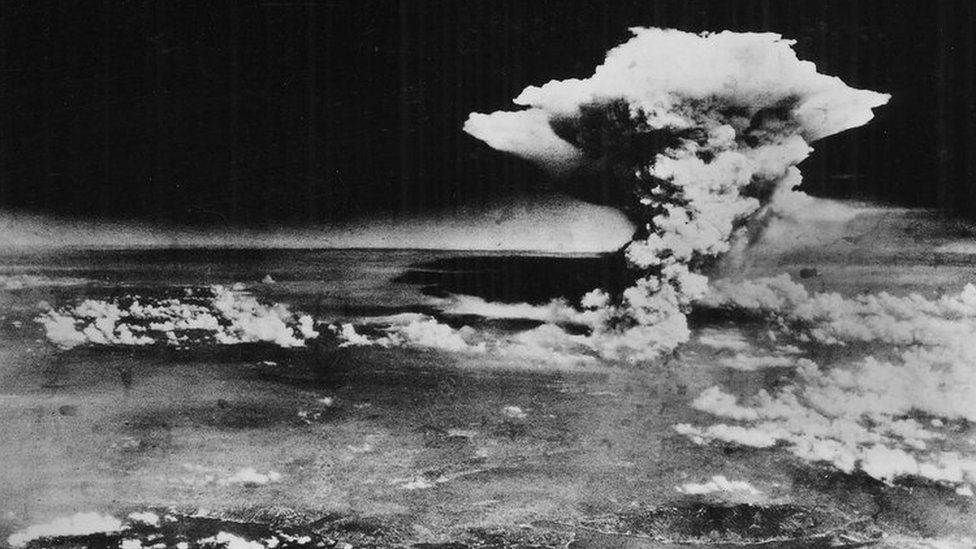 The first ever atomic bomb was dropped 70 years ago, as an act of war, killing about 70,000 people in Hiroshima, Japan.
Earlier, Japanese Prime minister Shinzo Abe led a memorial there.
The bombing in 1945 by a US war plane, and a second one on Nagasaki three days later, is credited with ending World War Two.
There have been no repeat acts since then, but we look at countries which have nuclear bombs to use, if needed.
The countries who have nuclear weapons
There are five permanent members of the UN security council, (the body established after World War Two of the world's leading nations) which officially have nuclear weapons.
These countries are the UK, Russia, US, China and France.
In the UK, the current military nuclear weapon system, Trident, is often criticised as being too expensive to maintain and unnecessary in its mission to keep world peace by some politicians and political parties.
But the Conservative government believes having Trident gives the UK a place at the top table in the international community and is seen as the ultimate war deterrent.
There are also four nuclear countries that aren't recognised as Nuclear Weapons States.
India conducted a successful test in 1974, although they have a "no first use" policy and will only act in retaliation.
Due to the tension between the two countries, when India got close to making a nuclear weapon Pakistan began its own project.
As the only Muslim country with nuclear capabilities some people have called Pakistan's nuclear capability "the Islamic bomb".
North Korea has been condemned for its repeated nuclear tests.
However, it doesn't have the technology to mount a warhead on a long-range missile.
Israel is also believed to have had nuclear weapons since 1966, but it has never admitted to having them.
For more than 10 years, the UN security council has worried that Iran had been developing nuclear weapons, although a recent deal earlier this year saw the country agree to "significantly limit its sensitive nuclear activities".
The country has always argued its nuclear testing wasn't for weapons but for "civil energy use", which is what countries like Japan and Germany do, instead of relying on dwindling oil supplies.
On the 6 August 1945, 70,000 people are believed to have been killed when Hiroshima was bombed.
Many more died of horrific injuries caused by radiation poisoning in the days, weeks and months after.
It's thought the combined number of deaths from that bombing, and Nagasaki a few days later, killed more than 140,000 people.
On Thursday people across Japan observed a minute's silence to mark the anniversary.
In Hiroshima a bell tolled at 08:15 local time - when US aircraft B-29 Enola Gay dropped the bomb that flattened the city centre.