Anonymous claims to have taken down 20,000 IS Twitter accounts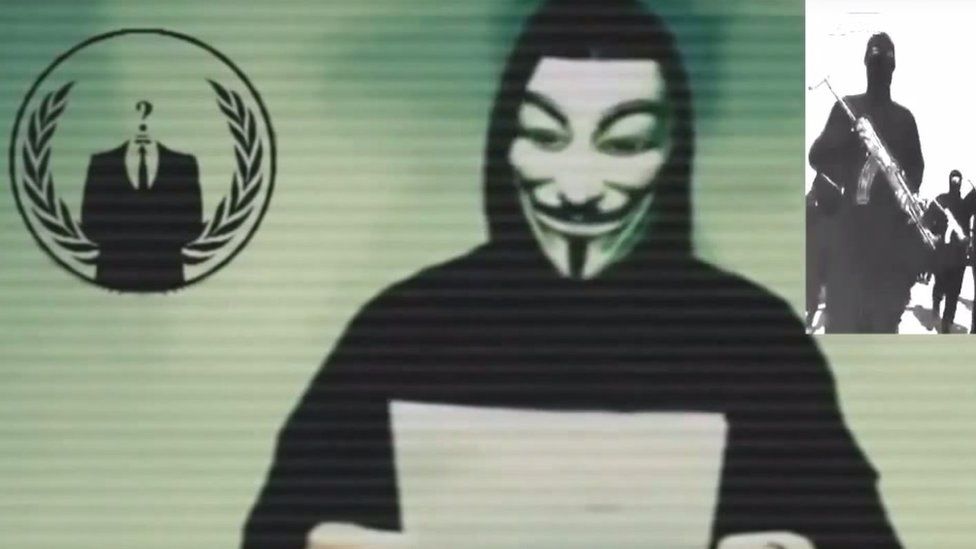 The online hacking collective Anonymous says it's taken down 20,000 IS-related Twitter accounts.
The group "declared war" on the group after the attacks in Paris, which left 129 dead and dozens more injured.
It asked hackers around the world to join its #OpParis operation.
"It is time to realise social media is a solid platform for ISIS' communication," said an Anonymous spokesman in a new video on its YouTube page.
"At the same time social media has proven that it is an advanced weapon.
"We must all work together and use social media to eliminate the accounts belonging to terrorists.
"ISIS - we will hunt you, take down your sites, accounts, emails and expose you.
"From now on - there will be no safe place for you online. You will be treated like a virus and we are the cure."
The group has also released several guides aimed at teaching normal web users how to break into IS websites and attack the network's social media accounts.
One document is called a Noobguide for beginners.
"In the past it's been limited to getting accounts suspended, getting content taken down, identifying IP addresses," he says.
"But it's disruption rather than meaningful challenge. It won't solve the problem.
"As a disruptive influence it does help close down some of the IS publicity machine.
"The big recruitment accounts usually pop back up quickly but it's important to challenge the spaces these people have monopolised.
"These accounts are very important for IS."
An ISIS-related social media account has released a statement about the Anonymous operation.
In a channel on the messaging app Telegram, a supporter of the group says so-called IS are the "owners of the virtual world" and says members should "unite profile pictures on Twitter" with a black shoe print on the French flag.
The account also promised further action online.
Telegram Messenger says it's blocked 164 public channels "used to spread terrorist propaganda" and shut more down earlier this week.
Telegram founder Pavel Durov wrote on Twitter: "To media covering us this week - Telegram channels are public broadcasts. They are the opposite of private chats. Please don't mix the two.
"Our policy is simple: privacy is paramount. Public channels, however, have nothing to do with privacy. ISIS public channels will be blocked."