Snapchat's new Lenses and chat features
By Anna Collinson
Newsbeat reporter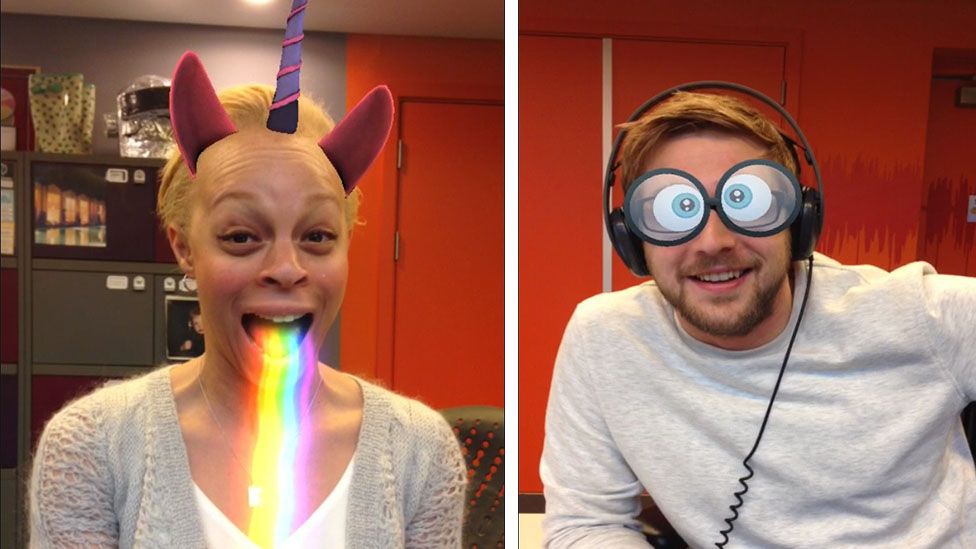 When filming a friend do you ever think, "You would look so much better with a unicorn horn right now?"
Now you can make that dream a reality. Snapchat has added the Lenses feature to the rear camera.
The app's latest update also includes a device which lets you comment on videos as you watch them.
We could explain how all of this works through words, but it's way more fun with pictures.
Say you are watching a Snapchat video where one of your friends is talking to the camera.
Then another friend appears from behind a ridiculously tall sofa, quietly creeps up behind them and grabs them...
You know what's going to happen next...*
*We can confirm that is genuine shock on her face.
From now on, you can comment on a new Snapchat video as you watch it.
If they are following you, a "chat" button will appear at the bottom of your screen and if you push the arrow up, a keyboard will appear and you can send them a message.
The video with your message will then appear in your friend's inbox, and look something like this.
Remember way back in September when you could finally add animations to your face via your selfie camera.
We had fun, sure. But after a while, it gets boring.
With this update, the Lenses have been extended to the rear camera so you can apply it to other people.
And for those who do not know how to use Lenses, press your finger down on the person's face you want to apply it to.
Once it recognises a face an outline will appear. You can then choose from a collection of Lenses which will appear at the bottom of the screen (Be aware: Not all of them are free).