Injured animals up for 'pet survivor' prize after cheating death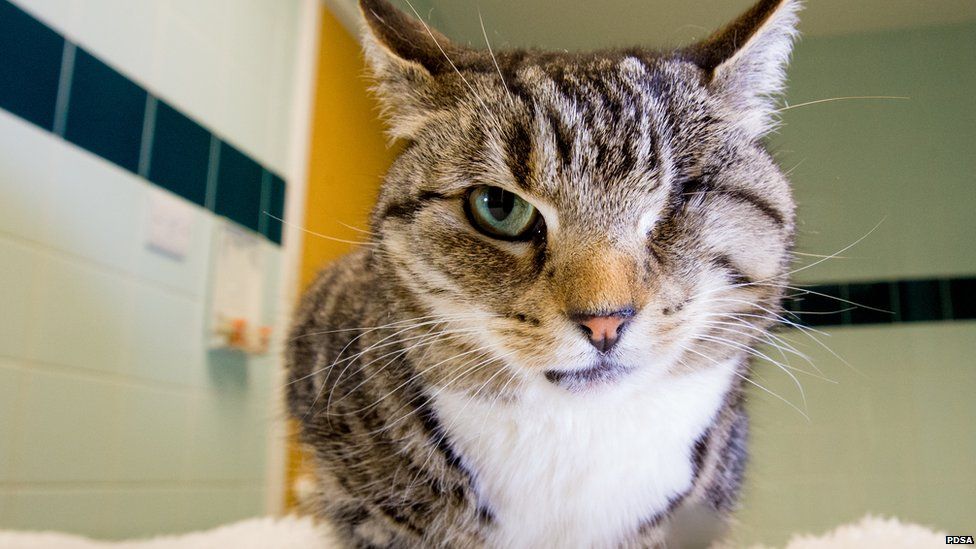 Six animals, including a dog shot in the head with a crossbow and a kitten who suffered severe chemical burns, are up for an award for cheating death.
Members of the public are voting for the animal they think deserves the title of PDSA Pet Survivor 2015.
Other nominees include Honey the cat, who was hit in the face with a marble-sized metal ball-bearing.
"We selected six pets whose tales encapsulate true survival spirit," says PDSA vet Vicki Larkham-Jones.
Sean Wensley, a PDSA senior vet and president of the British Veterinary Association (BVA) says: "The tragic and painful circumstances endured by these pets, along with the devotion shown by their owners, makes them all worthy contenders."
***This article contains some distressing images***
Vets discovered a ball-bearing in her skull after Honey was found covered in blood.
Her eye socket and jaw had to be rebuilt and during this time she was fed through a tube. She lost an eye but is now back at home with her owners.
Ozzy was missing for 36 hours before being found by his owner after a dog attack.
Attempts were made to save his leg but eventually it had to be amputated. He is now able to manage on three paws.
A lorry drove into Penny at about 50mph but the driver didn't stop and she was recued by people travelling in a car behind.
Despite not knowing who her owner was, the vet decided to carry out the operation Penny needed, planning to cover the cost if necessary. The next morning Penny's owner was traced and the pair were reunited.
Ruby was thought to be a stray when she was found with severe burns, seemingly caused by chemicals.
She has since found a new home where she was nursed back to health. Now her fur has almost grown back, but some is white.
When a dog attacked Suki, her owner feared the worst. She had suffered prolapsed intestines, a broken jaw, a ruptured spleen and bruised lungs.
Vets even found a tooth from the other dog in her abdomen. Suki has now made a full recovery.
When Ziggy was found walking in the woods he had a crossbow lodged in his head. Somehow it had missed all the vital nerves and blood vessels. Within two weeks vets said it was hard to tell he had ever been injured.
It is thought Ziggy was deliberately shot. He has now found a new home with people who care for him.
The competition was open to pets treated by a vet in the UK between 1 August 2014 and 1 August 2015.
Public voting closes at midnight on 13 December and one vote is allowed per person.
For more stories like this one you can now download the BBC Newsbeat app straight to your device. For iOS go here. For Android go here.