Amazon stops selling hoverboards, major manufacturer Swagway confirms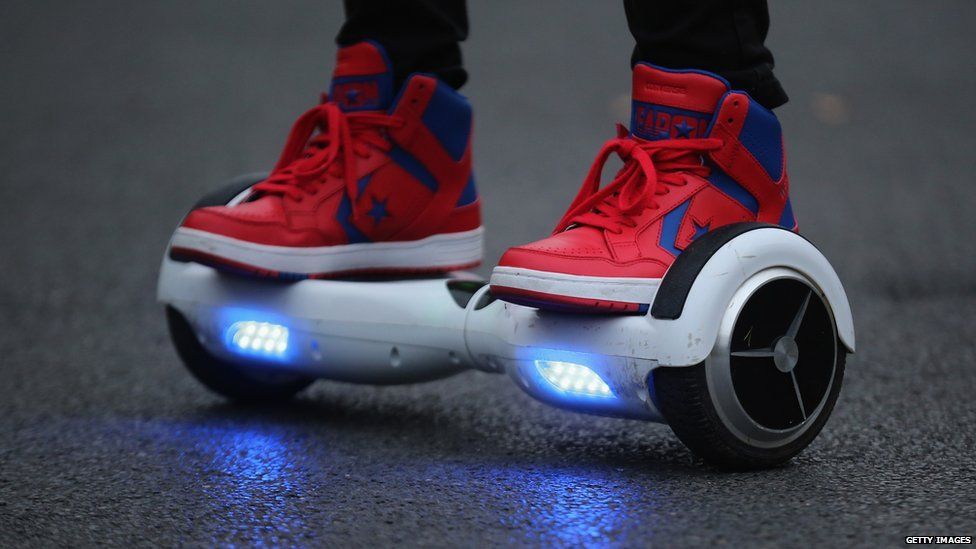 Major "hoverboard" maker Swagway has confirmed that Amazon has stopped selling its products in the UK and US.
The company said it welcomed the move but that it has met all of the safety requirements requested by Amazon.
It follows a London Fire Brigade warning in October after a rideable board on charge in a bedroom in Southwark caught fire.
Newsbeat has searched Amazon and can only find accessories for the devices still for sale.
In a statement sent to Newsbeat, Swagway said it was waiting to hear back from Amazon.
"Amazon sent out a notice on Friday to all hoverboard sellers [asking] to 'provide documentation demonstrating that all hoverboards you list are compliant with applicable safety standards, including UN 38.3 (battery), UL 1642 (battery), and UL 60950-1 (charger).'
"Swagway already meets all those certifications and has already sent the requested information to Amazon.
"As safety is on the forefront for Swagway, we applaud Amazon for taking these steps to weed out the low quality boards and want to note that this removal is not specific to Swagway, but includes 97% of the other branded hoverboards that were also selling on their site."
Sales of the devices in the UK have taken off in the past year, but there have been worries about safety connected to them.
Recently three leading American airline groups banned them, saying their batteries present an "unacceptable fire hazard".
It is illegal to ride them on public roads and pavements but there have been accidents on streets involving them.
On Thursday, a 15-year-old riding a hoverboard died in a crash with a bus in London.
In September, a man is accused of using one of the devices during the robbery of a crate of energy drinks from a convenience store in south London.
We have contacted Amazon and are waiting for a response.