X Factor: Louisa Johnson's rivals for Christmas number one
By Jim Connolly
Newsbeat reporter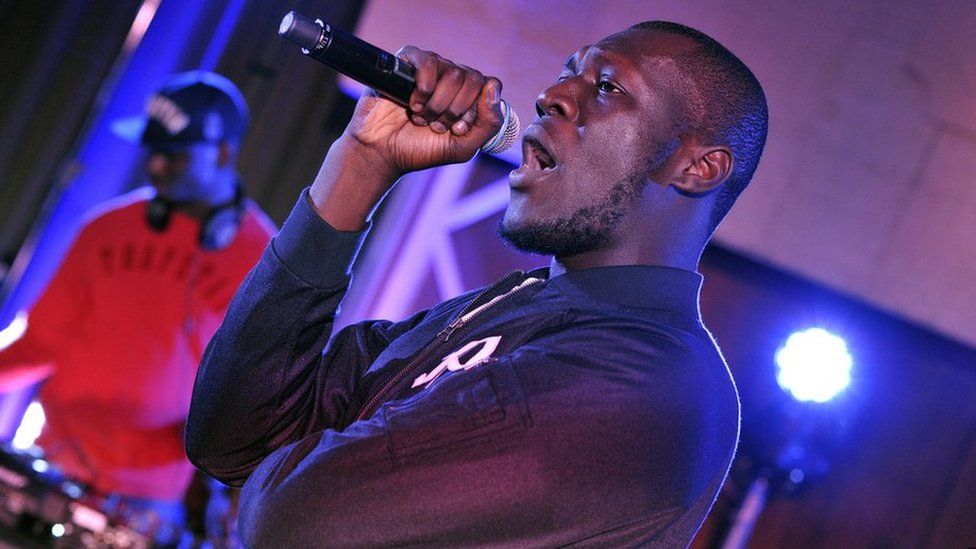 Normally the X Factor winner and Christmas number one go hand in hand.
This year's winner Louisa Johnson is the favourite again with her Bob Dylan cover Forever Young.
But she may have tough competition after a Twitter campaign started. #ShutUpForXMasNo1 is trending as people try to get Stormzy to number one on Christmas Day.
Fans of the song have been doing all they can to get it up the chart to the top spot.
Some people have been using the campaign to introduce Stormzy to a new group of fans.
He has backing from the world of sport too.
Anthony Joshua and Stormzy are mates and the MC performed Shut Up as the boxer entered the ring at the weekend, when Joshua won his fight against Dillian Whyte.
That's enough of Stormzy, so who else is in the running?
There is a Facebook campaign to get the Star Wars theme to number one.
The people behind it want a new version of the John Williams tune from the film series to get to the top of the chart.
It has almost a quarter of a million followers since it launched.
The NHS Hospital Choir, from Lewisham and Greenwich NHS Trust, is made up entirely of nurses, doctors and midwives.
They were runners-up two years ago in Gareth Malone's BBC Two show Sing While You Work and are right up there with the bookmakers as rivals for the festive number one with A Bridge Over You.
It's a mix of Fix You by Coldplay and Simon and Garfunkel's Bridge Over Troubled Water.
Another contender with a Gareth Malone connection is Military Wives.
They are belting out another cover version, the Proclaimers' I'm Gonna Be (500 Miles).
They have the pedigree because they've done it before in 2011.
Gareth helped them record Wherever You Are which stopped X Factor winners Little Mix, who released a cover version of Damien Rice's Cannonball.
Eagles Of Death Metal's Save A Prayer has a fan-led campaign to get it to number one.
It was started following the Paris terror attacks.
Their song is a cover of a Duran Duran song and both bands have promised to give proceeds to charity.
He is filling the charts at the moment so holding on to the number one slot would not be a huge shock.
He continues to be in the top two spots in the Official Singles Chart and is also in at number four with Purpose.
Do not rule out Love Yourself bagging top spot.