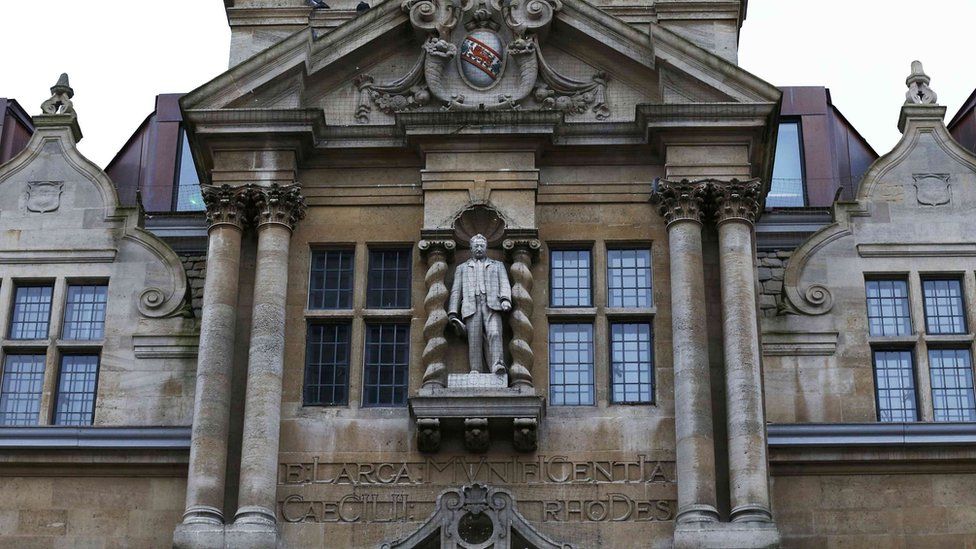 A statue of Cecil Rhodes, a British Imperialist, will not be taken down despite campaigners at Oxford University saying it represents white supremacy.
The businessman and politician ruled South Africa in 1890s and saw the English as the master race.
Many say his views and actions paved the way for the Apartheid which came into force in 1848 and ended in 1994.
Oriel College argues it should stay because it's a reminder of the complexity of history and of the legacies of colonialism.
In South Africa, a statue of Cecil Rhodes was torn down by students at the University of Cape Town last year.
And it's not the first time a statue's formed the focal point for public anger.
In 2012, a wooden statue of Jimmy Savile, which stood outside Scotstoun Leisure Centre in Glasgow, was removed soon after the TV presenter was found to have sexually abused hundreds of people.
A spokesman for Glasgow Life, which operates the centre, said: "Given the current controversy and the seriousness of the allegations, we thought it appropriate to move the statue at this time."
Memorials across the country that were dedicated to Savile - including his gravestone and a plaque outside his home - were also removed.
Many statues of political leaders have been ripped down following their falls from power.
Statues of Josef Stalin are still being removed from all over Russia and Eastern Europe.
One of the first was torn down in the Hungarian Revolution, a spontaneous nationwide revolt against the Communist dictatorship and Soviet domination, in 1956.
In 2011, rebel fighters took Colonel Gaddafi's Bab al-Aziziya compound in Tripoli, one of the final areas that remained in his control after an uprising.
The statue was one of many things destroyed by rebels. The compound was home to a zoo, an indoor pool, countless murals and a fairground.
The 25-acre palace ground is now home to rubbish dumps, markets and pet emporiums.
The toppling of the bronze statue of Saddam Hussein became one of the key moments in the Iraq War in 2003.
It came after US tanks rolled into Baghdad and ousted Saddam Hussein's government from power. It marked the symbolic end of the Battle of Baghdad.
Since the event some people claim the toppling of the statue was staged by the Americans.
A statue of Michael Jackson stood proudly outside Fulham's Craven Cottage ground from 2011 until 2013.
The club's former owner, Mohamed Al Fayed - who was a friend of the late pop star - installed the statue. It was removed by his successor Shahid Khan two years later.
Al Fayed advised Khan against taking it down because he said it was lucky.
Fulham were relegated in 2014.
It's now got a new home at the National Football Museum in Manchester.