What the shops think Christmas looks like... versus real life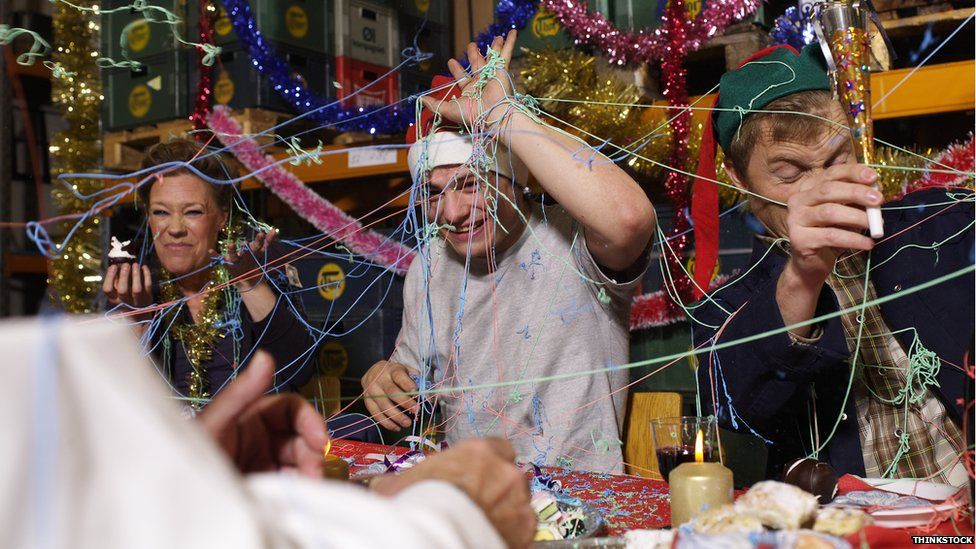 It's the first of December! Time to spend loads of money on cranberry-based foodstuffs and nuts you'll never crack?
We've been finding out what the supermarkets are pushing this Christmas - and how it compares to the reality in your kitchen.
Time for a return to classics, we're told
The mulled cranberry pork pie was the top-selling food item at one big chain last Christmas.
With a price tag of five pounds, customers actually bought the pies with little promotion.
This year that could change as "classic" Christmas food is on the mainstream menu.
But a fiver does give you some other options...
Bubbles at war, until you run out mid-morning
English sparkling wine, Champagne, Prosecco and Cava are Christmas classics which have been dropping in price over the last few years as the supermarkets do battle over our annual thirst for fizz.
Last year Aldi sold out almost a week before the big day due to the success of one of its promotions.
Expect bigger stocks across the supermarkets this year.
But if Boxing Day looks like this round yours, we understand.
Panettone, the hot ticket... until you chuck it out in March
Panettone is a sweet bread loaf that originally came from the Italian city of Milan.
It's massively popular in southern France, Spain and Portugal but has recently enjoyed a boom in the UK.
This year expect multiple, different pre-made flavours including orange, chocolate and blueberry.
And try not to leave it in your cupboard until March.
Strangely, the festive cake being shared around our office looks more like this...
If you like your greens, Christmas 2016 is your time
All the major supermarkets are diversifying their vegetable ranges to things like salsify.
Martyn Lee, Tesco's development chef, told BBC Radio Four You and Yours that veggies are becoming a choice as a main meal in their own right.
"Meat-free Monday is a thing now. People are not just actively becoming vegetarian, they are having vegetarian days.
"They are actually having a health choice of cutting out meat."
It's all about deep greens and whites for home decoration this year, apparently.
"Hygge" (pronounced "hoo-ga") has been named one of the words of the year - it's Danish for "cosiness" (the closest translation) and makes you want to sit by a fireside eating meatballs.
All the major suppliers are currently pushing Scandinavian designs.
"The Scandinavian trend has been growing," says Tracey Anderson, head of product development at Waitrose.
"The use of very natural materials such as wood and wax candles.
"A simple pallet of silver and whites is going to be very big this Christmas."
And elves have not been crafting your presents in a candlelit barn...
This is where the real elves work.
Find us on Instagram at BBCNewsbeat and follow us on Snapchat, search for bbc_newsbeat