What American presidents do when they leave the White House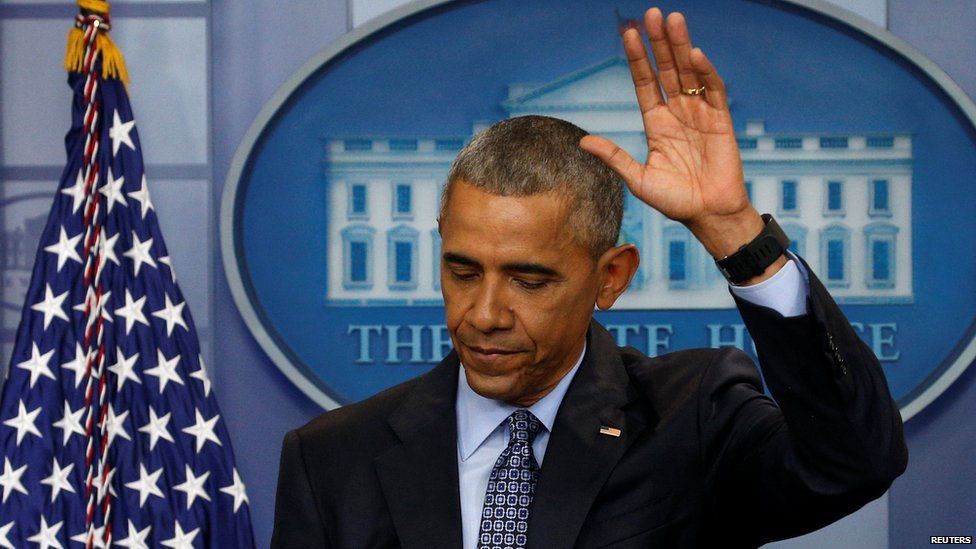 Barack Obama is handing over the US presidency to his successor, Donald Trump, and leaving the White House after eight years in office.
While the president joked he would like to work at Spotify, in reality he's pledged to stay politically active.
But, while we might reasonably expect a book, some television interviews, the 44th president has only given a small clue to what he'll do next.
Could he take some inspiration from the 42 men* who preceded him perhaps?
After his four years as the second US president, John Adams retired to a quiet life with his wife Abigail.
He lived for another 25 years surrounded by family and spent a lot of time writing.
He died on the same day as Thomas Jefferson, the third US president, on 4 July 1826, 50 years after the American Declaration of Independence.
James Madison (1809-1817)
James Madison was a plantation owner and after he stepped down he returned to his land, where he kept slaves.
He was active in the American Colonization Society, a controversial organisation which tried to return slaves to Africa.
William Henry Harrison (1841)
The ninth US president is also known for serving the shortest amount of time and being the first one to die in office.
After just 32 days in the role, he is said to have died of pneumonia after catching a cold.
While a popular story claims he caught it while giving his long inauguration speech in poor weather, there is little evidence to support this theory.
Grover Cleveland (1885-1889 and 1893-1897)
Grover Cleveland is the only man in history to serve a term as president, only to return to the job a few years later.
After his second presidential term, he played the stock market in order to support his family, making a considerable amount of money.
(*This is why, while Barack Obama is the 44th president, there are 42, as opposed to 43, men who have preceded him.)
Theodore Roosevelt (1901-1909)
Theodore Roosevelt tried to become president for a third time in 1912 but lost to Woodrow Wilson (before 1951 there was no limit on how many terms presidents could serve).
Afterwards he took his son Kermit to explore the River of Doubt in Brazil.
Battling malaria and dealing with a leg injury in a hostile environment, the trip nearly killed him.
Some people in the US though didn't believe he'd managed to navigate the river while injured and ill.
Richard Nixon (1969-1974)
The Watergate scandal forced Republican Richard Nixon to resign.
His administration had been involved in a cover-up, after a break-in at the Democratic National Congress revealed his opponents had been secretly recorded.
Nixon faced health and financial problems during the fallout, but later sold his memoirs, carried out paid interviews and returned to the world stage.
He's often held up as the best example of what to do after your time as US president comes to an end.
Jimmy Carter, whose foreign policy problems tainted his presidency, has since worked for humanitarian causes, as well as working in international diplomacy and writing several books.
In 2002 he was awarded the Nobel Peace Prize and at the age of 92 he is still involved in charitable projects such as building homes for disadvantaged people.
We've got our first clue from Barack Obama (2009-2017)
Warning: Third party video may contain adverts
Barack and Michelle Obama announced that, after taking a break, they're opening a "centre for citizenship" on the south side of Chicago.
Outgoing presidents get to open a presidential library in their home states.
But Barack Obama says his library will be more than that, and will take ideas from citizens on which young leaders and organisations they should be supporting.
Find us on Instagram at BBCNewsbeat and follow us on Snapchat, search for bbc_newsbeat