There's now a whole job for managing bets on Donald Trump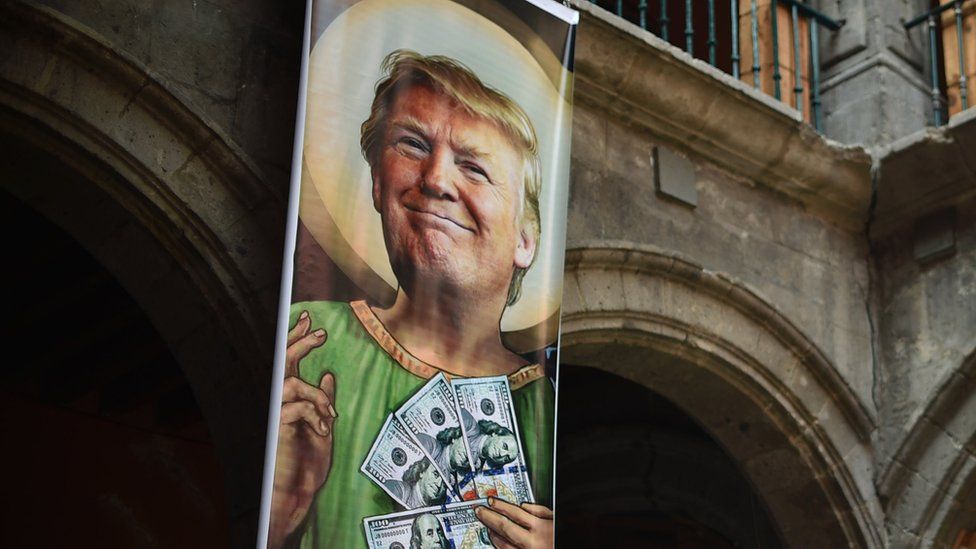 But of the hundreds of applicants from all over the world, the one that stood out was a former Trump employee.
They can't reveal details about the applicant's specific experience, age or gender.
But Lee Price, the company's PR and Mischief Champion (yes, really) told Newsbeat they would definitely get an interview.
Since publishing the job advert on Monday morning, the website has received close to a thousand applications from all over the world - including Washington.
Paddy Power is hoping to interview successful applicants in the next two weeks, so that someone is in the post by the end of April.
The job will initially be for three months. "It could be extended to four years, if Trump lasts that long, which is a worrying prospect," says Lee.
Ever since Trump started his bid for US president, he has become the most popular non-sporting betting topic by the gambling chain's punters.
More serious topics include the likelihood of Trump being impeached or being charged with collusion with Russia.
On the other end of the scale, you can get 20/1 odds on the US President announcing that aliens exist and 500/1 on him surgically enhancing his hands.
The odds on Trump converting to Islam are surprising short, at 50/1.
Wanted: Someone who can predict what Trump does next
The job's purpose is stated as follows: "To make American politics great again. Because, let's face it, there's no chance Trump will."
It's based in Dublin, though remote working is a possibility for the right candidate. Lee told Newsbeat they've had applicants from America, South Africa, Australia, France - and the UK.
The successful candidate will need to be able to handle large quantities of data, "or, failing that, an ability to make something up on the spot and stand by it resolutely, shouting down anyone that disagrees," the job description reads.
But Lee told Newsbeat the main requirement is being a Trump specialist: "Being able to follow Trump and predict his next move, but I don't think even he's even capable of that."
Which means that someone who worked for the US President has a pretty good shot.
'Trump trumped betting market'
Although the job advert is tongue in cheek, it is absolutely legitimate.
The company's been overwhelmed by the amount of interest in Trump bets and needs someone to manage the huge market.
"Ever since Trump emerged as a legitimate contender for US President, he's been the number one betting market outside sport," Lee told Newsbeat.
"For example, we had more than double the number of bets on Trump than on Brexit, which is very surprising, given that was a generation-defining event. Trump trumped it."
Last year, Paddy Power paid out early on the US election, predicting that Hillary Clinton would win. That decision cost the company $4.5m (£3.6m) - something that Lee said "emphasises the depth of the Trump market".
Which gives another indication of exactly why they really need a Trump specialist who can anticipate one of the most unpredictable US political stories - and presidents - ever.