Adele should read this advice on stage fright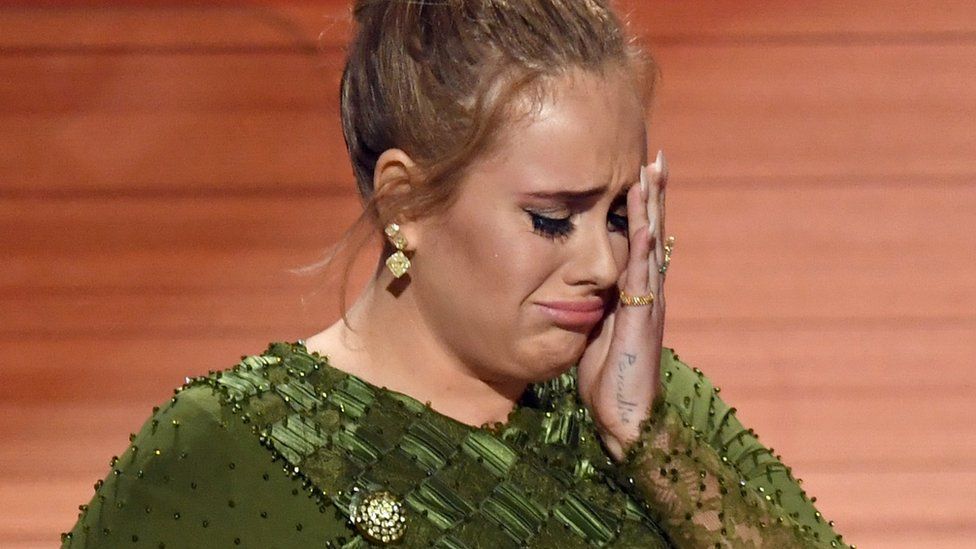 Adele's latest tour could be her last after she revealed she gets chronic stage fright.
During her final date in Auckland, New Zealand, the star told fans "the only reason I've toured is you".
"I'm not sure if touring is my bag," she added, and it's not the first time she's talked about performance nerves.
"Humans are hardwired to deal with threats, we freeze, and we root ourselves to the spot," Jane Ginsborg tells Newsbeat.
She's professor of music psychology at the Royal Northern College of Music, near Manchester.
So what is stage fright and how can performers learn to control it?
"Almost every soloist will experience the physical symptoms of music performance anxiety, particularly in the moments before walking on stage," she explains.
Understanding this helps us to understand why we get it and - crucially - what we can do about it.
Adele has previously said she fears that coming to see her live could "shatter the illusion" of her recorded music.
But the "audience is there for a good time", explains Jane Ginsborg.
"They're not out to judge you, or criticise you, they've come because they want to hear your music."
What about throat rituals to calm the vocal cords - and nerves?
We know that before every performance, Rihanna sucks on lozenges and "steams" her vocal chords.
Then, she takes a sip of a spirit, diluted with soda water or orange juice.
"The drink calms my nerves. I sip it while I watch the opening act from my dressing room," she told Esquire in 2011.
Jane Ginsborg is in favour.
"If she does it every time it's part of her pre-performance routine... that's great, she's got something that she feels works for her and is good for her voice."
'Get yourself psyched up and ready to go'
Little Mix member Jade Thirlwall admits she still gets nervous before going on stage - and also likes a pre-show ritual.
"The four of us listen to hype music before we go on. We all get in a little huddle with our team, we do a little speech, a cheer, and get everyone pumped."
Jane says this technique is a good idea.
"If you've got a mic and that's what you're going to be doing with the audience, fantastic.
"One of the things that reduces anxiety is social interaction. Hormones that our bodies produce when we are eating and talking with people are actually really good for controlling anxiety."
She adds that performers should turn their anxiety into excitement.
"Everybody has their own strategy which is going to depend on their own form of performance anxiety."
Zayn Malik has been open about anxiety before performances.
Jane says that sharing his experience was the right course of action.
"Almost everybody gets stage fright. Everybody assumes that they are the only person who's ever had it."