Kate Nash on Glow and 10 years of Made of Bricks
By Steve Holden
Newsbeat music reporter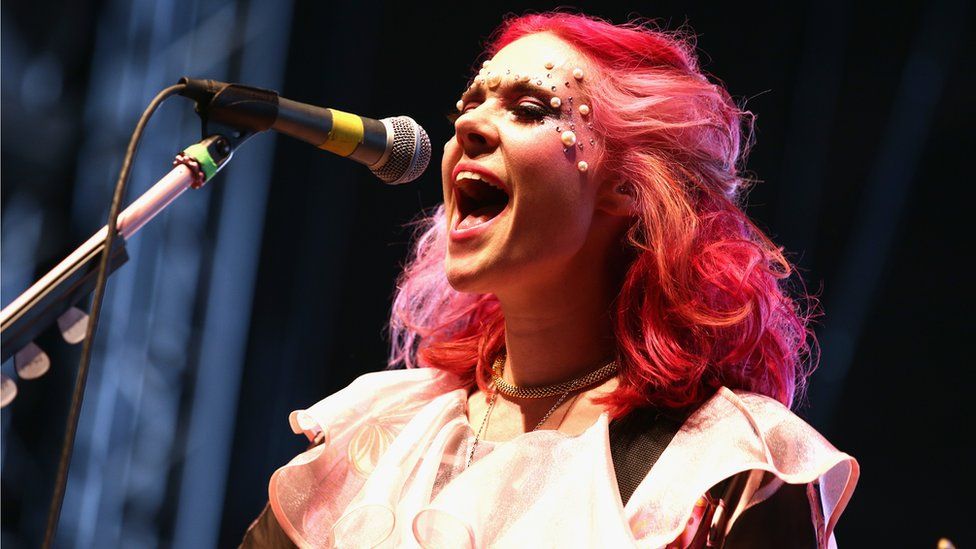 Kate Nash says she's the "best performer she's ever been" as she celebrates 10 years since the release of her debut album.
Made of Bricks was released in 2007 and spawned her biggest hit, Foundations.
As she ended her set with the song at Boardmasters in Cornwall, the packed tent erupted to sing it back to her. "That was epic," she tells Newsbeat after the show.
The singer is enjoying a resurgence in 2017 with a sold out tour.
It's celebrating her debut a decade on and she's also a central part of Netflix show, Glow.
"I'm re-owning the songs and performing them in - I think - the best way they've ever been performed.
"It's got a touch of nostalgia, a touch of 2007 and a touch of giving the audience what they want.
"At this point, I'm the best performer I've ever been and I feel really comfortable in my skin.
"I feel like I can go out and own it. It's really fun."
Last week, Glow - the Netflix drama about female wrestlers in the 1980s which she appears in - was renewed for a second season.
"I found out at the afterparty of my gig in London. The whole cast found out 20 minutes before the news was officially released.
"Netflix is so secretive - even with us."
In Glow, Nash plays British wrestler Rhonda Robertson and is one of three British women in the, mainly, American cast.
She agrees - to an extent - that the show has put her as an artist back on many radars.
"I think a lot of people have been surprised it's me," she says. "It's been a happy surprise."
It's clear she adores being part of the show, which is based on a true story.
"I respect the culture. I admire the athleticism. I'm amazed and honoured to be telling the story of these women who did this weird cool incredible underground thing.
"It's weirdly fitting for me to be playing this outsider."
The singer has been based in Los Angeles since 2014 and says one of the most important things in her life is her pet dog, Stella.
"I rescued her off a drug addict who came into a café and said 'I need to get rid of this dog for 20 bucks'.
"She saved me a bit. I was lonely and was going through a weird time personally but she's good for me because I have to take care of someone else.
"She's one of my soulmates."