What it's like to be married to a football derby rival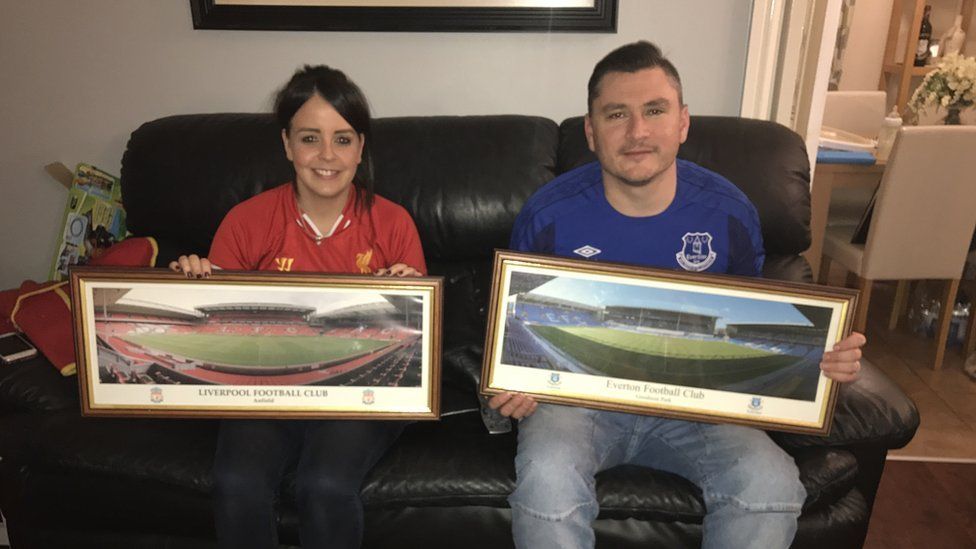 You get divisions in most marriages but spare a thought for Charlotte and Paul Mustoe from Wirral.
Despite Paul being an Everton fan and Charlotte supporting Liverpool, they've been together since 2011.
Ahead of the sides meeting in the third round of the FA Cup, their relationship will be put to the test once more.
"We've got quite a good record in the FA Cup at Anfield," Paul tells Newsbeat, "well four draws but we've not been beat!"
Charlotte is a bit more relaxed ahead of the tie, saying: "We haven't been beat since we've been together."
As 18-month-old son George bounces in his chair in the background, the couple insist they'll let him make his own mind up on who to support.
"One of the first questions she asked me was "who do you support?"", says Paul. "I said Everton."
It's safe to say Charlotte wasn't too impressed with his response but nevertheless agreed to see him again a few days later.
"As my Dad said in the wedding speech "every family needs a blue!"" Paul adds.
Charlotte smirks: "I feel Paul getting tense towards the derby.
"I'm not overly confident that we always win but we just haven't been beaten for a while."
Despite sitting separately in the stadiums when Liverpool and Everton meet, they do - if a little reluctantly - sit together on the sofa.
Paul says: "It does bring a bit of banter and I like the fact she likes football. I could have fallen for someone who wouldn't let me watch the football."
The couple have a rule to not taunt each other when their team is on, but that doesn't always work.
"He storms upstairs and goes to bed whenever they get beaten," says Charlotte.
Paul interrupts: "I don't, I just take myself away from the situation."
If you're reading this thinking you have similar struggles with your spouse over a sporting rivalry, fear not, Charlotte and Paul have given us their top tips.
Charlotte suggests: "If you win, don't rub it in and don't over-celebrate.
"Before we got a joint bank account we agreed that whoever lost got the take away."
Paul has a more practical solution. He says: "Sit as far as possible away from each other.
"At the end of the day I'm still going to be with her at the end of the game, regardless of the result."