The funniest moments from the 2018 Golden Globes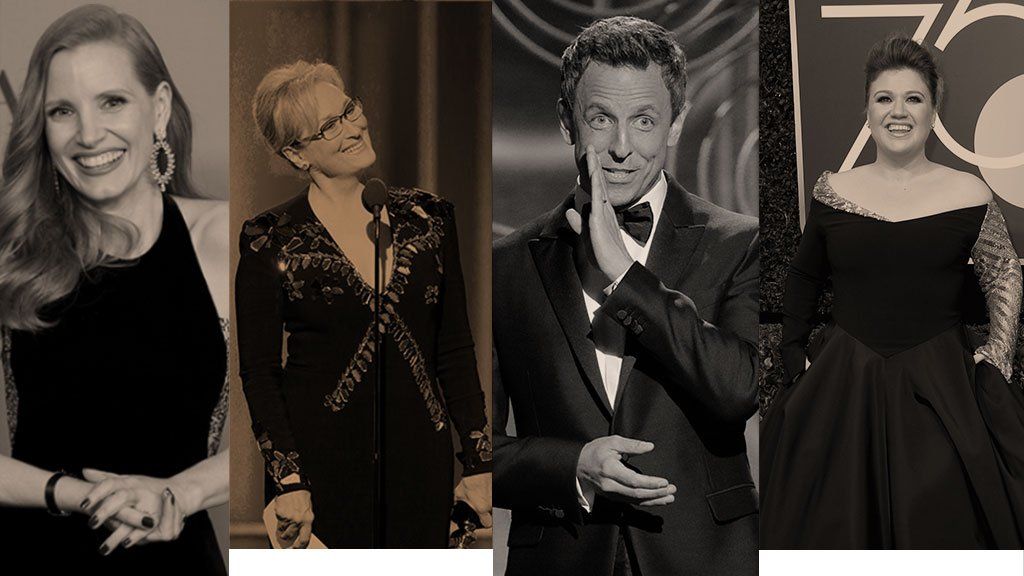 It's seen as the informal build-up to the Oscars, although the Golden Globes had a slightly different feel this year.
Many stars wore black in protest over sexual harassment in the industry, and many will be talking about a powerful speech by Oprah Winfrey.
However, there were a few moments of light relief, most of which weren't planned.
Let's start with Kelly Clarkson losing her mind when she spotted Meryl Streep.
Ryan Seacrest, who was interviewing her, kindly introduced the singer to the actress as she appeared to get more and more excited.
That wasn't to be the only comedy moment for Meryl Streep. When she popped out during a break she returned to find Mariah Carey in her seat.
Then there's reading out the list of nominees for an award - simple job right? Well not, if it's not immediately obvious how someone's name is pronounced.
Jessica Chastain experienced such a problem when trying to say Saoirse Ronan.
Instead of pronouncing it correctly as "Ser-sha", the actress said "Sher-sha", prompting a mini-backlash on Twitter. Awks.
Take a bow Tom Hanks - but for once not for your acting.
The 61-year-old emerged with a tray of Martinis for his table, which included Steven Spielberg, showing no one is above getting a round in.
James Franco won the Best Actor award at the 2018 Golden Globes for playing The Room's Tommy Wiseau in The Disaster Artist.
So James felt it was only right he bring up Tommy - the original actor for the role he was playing - as he accepted it.
What he probably didn't bargain for was Tommy trying to steal the mic as he gave his speech.
Needless to say he simply pushed him away.
While we're on acceptance speeches, there was a fair bit of reaction to what must have been an awards ceremony first.
Ewan MacGregor - on accepting best performance by an actor in a limited series or motion picture for television - thanked a number of people.
Two of whom were his girlfriend and co-star Mary Elizabeth Winstead, as well as his ex wife, who he reportedly left her for.