The Youngertakers: Working in the funeral trade... aged 17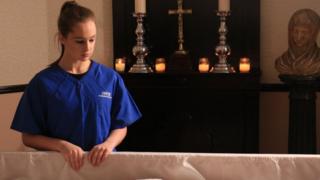 Hello, my name is Ellie and when I'm not at college I'm an undertaker.
I'm only 17 so I get quite a weird reaction when I tell people and my friends think I'm bonkers.
But I'm quite happy being around death because I've always liked to be different and this industry is certainly different.
I got into it because a couple of years back, a close family member took their own life and I found the body.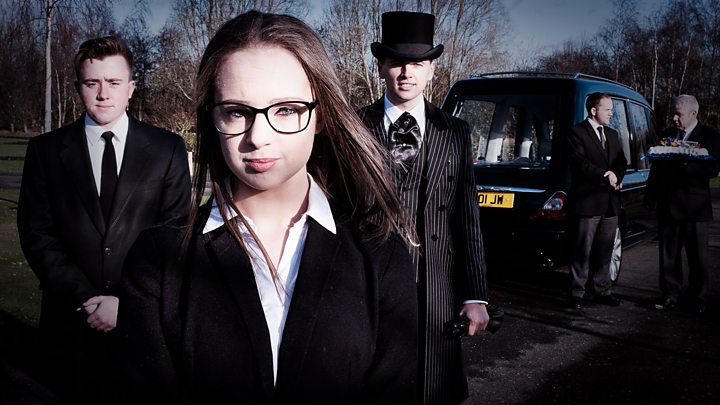 As horrible as it sounds, I was really interested in the science behind the state of the body when I found it - and then the sounds coming from the mortuary when I had to view it.
Shortly after the funeral, I got some work experience at a funeral home in Nottingham and I've been training there.
I do things like answer calls from bereaved families reporting a death, to doing the make-up on the deceased bodies.
What is it like touching a dead body? Now that is a good question, and one I've never really asked myself before.
At first it felt very strange and quite overwhelming - but not anymore.
They're very cold, the texture of the skin changes and each body feels different.
Touching dead bodies doesn't bother me at all and fortunately I rarely think about them once I leave work.
My friends have had a mixed reaction. They either really don't want to talk about it, or they are extremely inquisitive.
They are very supportive and think that it is great that I have found something that I love doing and am passionate about.
I always feel very honoured to be able to look after someone's loved one, and treat them with the respect and care they deserve.
I have always hoped that there is some sort of life after death, and that the soul lives on at least.
Although working in this industry and seeing the harsh reality of death every day does make that a lot harder to believe.
I guess I'll find out one day.
Listen to Newsbeat live at 12:45 and 17:45 every weekday on BBC Radio 1 and 1Xtra - if you miss us you can listen back here