L'Oreal hijab model pulls out of campaign after backlash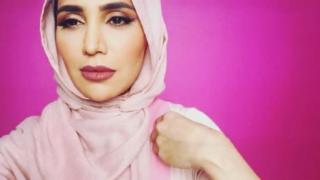 UK beauty blogger Amena Khan says she's pulling out of a L'Oreal campaign.
In a post on Instagram she says she's stepping down from the campaign "because of the current conversations surrounding it".
Her decision follows the discovery of tweets she wrote in 2014, which some have branded as "anti-Israel".
It comes just days after she told Newsbeat she was delighted to be the first woman in a hijab to be part of a mainstream advert for hair care.
In her Instagram post she says: "I recently took part in a campaign, which excited me because it celebrated inclusivity."
She goes on to explain that she is stepping down "with regret" because "the current conversations surrounding it detract from the positive and inclusive sentiment that it set out to deliver".
It follows accusations that she expressed "anti-Israel" views in a number of tweets from 2014.
Newsbeat has not seen the tweets as they have now been deleted but in her post, Amena apologises for them, saying she's sorry for the "upset and hurt" they've caused.
"Championing diversity is one of my passions, I don't discriminate against anyone," she adds.
Amena had hoped her role would inspire and empower other women who wear headscarves.
Earlier this month, she told Newsbeat: "It's a platform for diverse voices and women who don't fit the very narrow mould of beauty."
A spokesperson for L'Oreal Paris told Newsbeat: "We have recently been made aware of a series of tweets posted in 2014 by Amena Kahn, who was featured in a UK advertising campaign.
"We appreciate that Amena has since apologised for the content of these tweets and the offence they have caused.
"L'Oreal Paris is committed to tolerance and respect towards all people. We agree with her decision to step down from the campaign."
Listen to Newsbeat live at 12:45 and 17:45 every weekday on BBC Radio 1 and 1Xtra - if you miss us you can listen back here