Logan Paul 'suicide video': Brother says he 'did not mean to offend'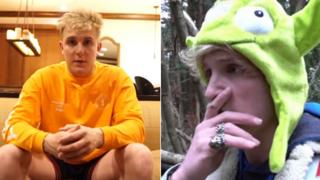 YouTuber Jake Paul has spoken about his brother Logan's controversial Japan video for the first time, admitting he was "very wrong".
Fellow vlogger Logan caused outrage when he posted a video showing the body of an apparent suicide victim in the Aokigahara forest.
"I don't think it's right what he did at all," Jake said in a vlog.
"I know Logan more than probably anybody else - I do know though, that he did not mean to offend anyone."
Logan Paul took down the video after two days and later he apologised.
But the vlog was viewed more than five million times before it was removed.
Jake, 21, has stayed quiet on the topic until now, saying he "wanted to let the situation have some time to breathe.
"I know Logan was going through a lot and everyone was talking about it," he said.
"I think what Logan did was very, very, very wrong indeed," says Jake.
"He made a huge mistake and not only is he paying for it, but he is learning from it."
Jake accepts that his older brother "didn't handle the situation the right way," but says that he "didn't mean to offend or hurt anybody".
But the YouTuber also adds that Logan will "learn from his mistakes" and "be able to bounce back".
According to Forbes, Logan was the fourth highest-paid YouTuber last year, earning £9.3m, while Jake came seventh with £8.6m.
YouTube removed 22-year-old Logan from its Preferred programme and put on hold planned projects with him as a result of the scandal.
The company eventually admitted the video shouldn't have been published.
YouTube insisted to Newsbeat it should not be regulated in the same way as traditional TV channels.
Its chief business officer said: "We're not content creators; we're a platform that distributes the content".
Listen to Newsbeat live at 12:45 and 17:45 every weekday on BBC Radio 1 and 1Xtra - if you miss us you can listen back here