Bruno Mars songwriter: 'He's always had the it factor'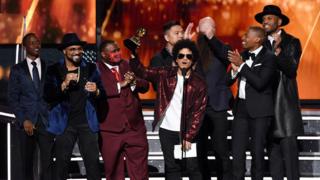 The day after the Grammy Awards, Jonathan Yip can't believe it's true.
The songwriter has won two trophies as part of the team behind Bruno Mars' massive album 24K Magic.
He says he knew Bruno would be a success from the moment they met ten years ago.
"He's always had the 'it factor'", Jonathan, whose four-piece team The Stereotypes joined Bruno on stage to accept the awards, tells Newsbeat. "He just knows how to write a great song."
"Honestly, we are still wondering if this is a dream. We are definitely on cloud nine," he adds.
The Stereotypes were behind the Bruno Mars hit That's What I Like, which won Song of the Year, Best R&B Song, and Best R&B Performance at the ceremony.
It helped Bruno towards six wins on Sunday night.
"Melody is king and he knows the right ones that will stick," Jonathan says.
Bruno said of the writers: "I've known these guys for over a decade.
"All the music, the music business horror stories you see in the movies, we've been through all of it. These are my brothers."
The Stereotypes have worked with stars including Justin Bieber, Ne-Yo, and Fifth Harmony, but Bruno has been their longest-standing collaborator.
Returning to the studio in 2015, they helped him craft the nostalgia-tinged funk sound of 24K Magic, which has gone platinum in countries worldwide.
"Bruno had a clear vision on where he wanted to go with this album and song. He wanted to bring it back to the days where songs made you feel good and want to dance," explains Jonathan.
"We basically followed his lead. He said 'we need to make this bounce,' so together we all kept trying different things until we had it."
Critics have noted the album's 1980s and 1990s influences, but Jonathan insists it's much more than a tribute act.
"I think all music is an ode to something from the past," he says.
"In this day and age it is almost impossible to create something that doesn't grab influence from the past. Bruno pays homage to the greats and does it in the best and classiest way."
Jonathan says the Los Angeles quartet are still celebrating one of the "best nights of our lives" at the Grammys.
"We have all been screwed over by people in this business at some point.
"We have all had people tell us 'no' more times than we can count, and it feels great that we were able to get together [...] and enjoy success."
Listen to Newsbeat live at 12:45 and 17:45 every weekday on BBC Radio 1 and 1Xtra - if you miss us you can listen back here