Why Rihanna was Arsenal's 'lucky charm' in 5-1 Everton thrashing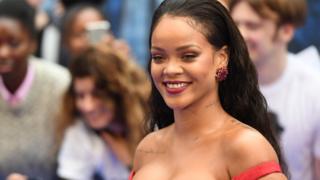 Rihanna has emerged as the unlikely inspiration behind Arsenal's thumping 5-1 win against Everton.
The singer was at the Emirates to watch the match and enjoy the Gunner's work, work, work, work, work ethic.
After the match, she posed with midfielder, Mesut Ozil, who described her as the team's "lucky charm".
The German said he was "still unbeaten with Riri" - a reference to when she came to watch the 2014 World Cup Final between Germany and Argentina.
Ozil himself couldn't get on the scoresheet but with Rihanna pulling the inspirational strings during a pre-match meet and greet, other players stepped up.
It's just a shame that whoever was looking after her social accounts still referred to the game as "soccer".
After the game, manager Arsene Wenger seemed to play down the importance of Rihanna's contribution, focusing instead on his side's "penetration and sharper game".
He also pointed to the three goals in the first 19 minutes being somewhat important.
"I believe the speed of our game was very good and quality of movement," he said.
But given the side were humbled 3-1 against Swansea the previous Tuesday, something radical changed on Saturday night.
And even if he was reluctant to give credit where it's due, his players weren't so reticent.
Given Arsenal's up and down season, there are probably high level talks with Rihanna's people to see if her schedule allows any more trips to watch the team - with one eye surely on their next Europa League match, away at Ostersunds FK.
Listen to Newsbeat live at 12:45 and 17:45 every weekday on BBC Radio 1 and 1Xtra - if you miss us you can listen back here