'I had to fight my parents to avoid university'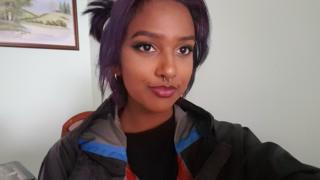 Don't go to university expecting you'll end up with a high-paid job.
That's according to the chairman of the Education Select Committee - who says the benefits of having a degree don't always outweigh the huge amount of debt.
University leaders insist having a degree remains an excellent investment.
Newsbeat's been speaking to three people about their uni experiences, good and bad.
Eleanor knew from the age of 14 that she wanted to be a tattoo artist.
"I really loved school to begin with, I enjoyed doing my GCSEs and was excited when I started doing my A Levels," she says.
"But I found having so many essays and coursework deadlines very stressful, and everyone constantly mentioning university applications made me panic.
"My parents expected me to go to university - especially as my sister had graduated a few years earlier.
"It took a lot of arguing and convincing for them to accept I didn't want to go."
She says if she'd gone she would have studied fine art, but doesn't think it would have greatly helped her.
Now she's 19 and a tattoo apprentice.
Eleanor's advice is "don't do something you know you won't love".
"If you're uncertain about what you want to do with your future, then it's absolutely fine and don't let anyone pressurise you."
Katie had a different experience with school. "A Levels broke me," she says.
"No matter how much effort, revision and work I put in - I didn't seem to be improving.
"I lost my love of education and I was sure I would never get it back again."
But she decided to go to uni to study creative writing and literature - and says it helped her career.
"I made connections with publishers, authors and publicists.
"Already I have a lot more faith in my ability to write, both academically and with my creative writing."
It doesn't look like a degree will be the end of Katie's education.
"I intend to go for a Masters and a PhD, hopefully," Katie adds.
Robyn tried university, studying maths, but dropped out after only a year.
"I just wasn't ready. In the end my body and my mind just couldn't hack it - and not everybody can!"
She doesn't think it would have made any difference to her career in fashion if she'd finished the course.
"Any skills I use now I gained from elsewhere - whether it be work experience or just general life experience.
"I was surprised to see a lot of jobs only required A Levels and experience, which I had.
"Now in general, life is good, I've got some steady income rolling in, I've moved out of my parent's house and am looking to buy a house next year."
Listen to Newsbeat live at 12:45 and 17:45 every weekday on BBC Radio 1 and 1Xtra - if you miss us you can listen back here