Does football really need a winter break?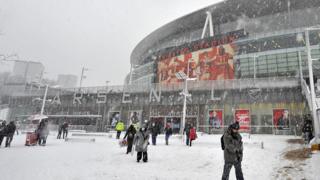 It's been discussed for years, but the Premier League has finally said it's considering introducing a winter break.
"Provided space can be found in the calendar, we are open to this in principle" it said in a statement.
Both Pep and Jose have recently spoken about how they think the lack of a break is affecting English football.
But with a festive schedule that's deeply loved and a January that's boring enough already - when could it happen?
Ok, ok, we know... it comes up in conversation every year, but this time the Premier League are actually talking about it.
In 2017/18 there were 41 games in the festive period, between December 18 and January 4.
It's a deep-rooted tradition and even Arsene Wenger has said he "would cry" if they scrapped it in favour of a break.
Well don't worry Arsene, it's January that's being discussed at the moment.
In a month where everyone sets unrealistic targets of cutting out chocolate, going vegan and avoiding alcohol - could we really cope without the beautiful game?
And for those fans complaining of a congested schedule, the games still need to be played so it'll just mean cramming more games into a shorter space of time.
Or losing one of the cups altogether.
It seems from a bit of trawling through Twitter that the one to go would be the Carabao Cup.
So according to Jozef, that's the league cup scrapped and we're taking up the Spanish way of thinking.
Would he be so keen if he knew their break this year was between 23 December and 3 January?
The length of the break could work although, in the 2016 season, teams in La Liga played a similar number of games as each of our English teams on average.
A few other ideas popping up on social media include reducing games by getting rid of cup replays.
Better quality football. That sounds like something everyone will be on board with.
Or maybe not.
Lee is keen, he thinks it'll be good for the fans too.
He's not the only one mentioning friendlies.
What else would the players do with their time off anyway?
That's the spirit!
Listen to Newsbeat live at 12:45 and 17:45 every weekday on BBC Radio 1 and 1Xtra - if you miss us you can listen back here