Winter Olympics: Being GB's 'best hope' despite broken bones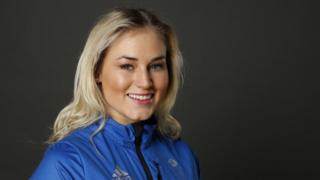 Britain's "best hope" for a medal at the Winter Olympics, Katie Ormerod, says her riding is the "best it's ever been".
Britain has only won one medal on snow at the Olympics and Katie hopes to increase that tally.
That's despite news on Wednesday that she fractured her wrist in slopestyle practise ahead of the games.
The minor fracture is not thought to be enough to stop her from competing in Pyeongchang.
Speaking to Newsbeat before the incident Katie said she's back at the top of her game despite suffering a back fracture in 2017.
"I'd just had the best season ever and then at the end of it was the World Championships.
"In one of the training days, on the first run, I overshot a jump by a mile and ended up catching my heel edge and landed flat on my back on sheet ice.
"I managed to snowboard down because I didn't actually realise I was that injured at the time," she says.
The 20-year-old had chipped a bit off her vertebrae - but is back now and can't wait to get to South Korea.
"This is my first Olympics and people who have been before have said that no matter how much you think you know what it's going to be like, it's going to be even bigger."
Katie is one of 25 athletes listed as Britain's "best hope" for a medal and says it "feels amazing".
"It's really nice to have that support and feeling that I can go there and potentially bring back two medals.
"My riding is at the best it's ever been so I'm just really excited to get there and show the world what I can do."
Katie competes in slopestyle and big air disciplines, which means she needs to impress with jumps and stunts.
"Slopestyle is where you go down a run with three jumps and about three or four different rails and you have to do a different trick on each obstacle.
"And big air is where you've got one really big jump and you have to do your biggest and your best trick - doubles, triples and loads of different rotations."
Speaking about the fracture to her wrist, which Katie endured in training on Wednesday, a Team GB spokeswoman told BBC Sport she will "continue with her preparations for slopestyle".
"It won't stop her competing. Injuries are part and parcel of the sport."
Listen to Newsbeat live at 12:45 and 17:45 every weekday on BBC Radio 1 and 1Xtra - if you miss us you can listen back here