A Kim Possible live-action Disney movie is on the way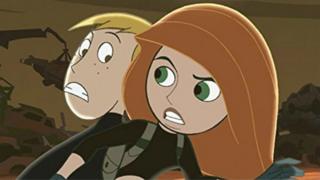 The Disney Channel is developing a live-action movie version of cartoon series Kim Possible.
It was confirmed on Wednesday when Disney asked its followers which actors they would like to see play teenage spy Kim.
There's no news of when it's set to hit our screens but it will be produced by the original animated series' creators.
And it's safe to say fans have already started constructing their dream cast.
Fans have put Zendaya in the running for Kim Possible.
Megan Fox as her nemesis Shego.
And there have been questionable suggestions for what Disney will do to cast Kim's naked mole-rat Rufus.
As well as being loved by fans for its extremely catchy theme tune - and catch phrases like "Booyah" and "what's the sitch?" - Kim Possible was really successful.
The original series launched in 2002 and ran until 2007, and was nominated for an Emmy in 2003 for outstanding animated program.
It also inspired two animated Disney Channel movies - Kim Possible Movie: So the Drama, and Kim Possible: A Sitch in Time.
The typical high school girl saved the world from villains in her spare time and got alerts of trouble nearby sent to her beeper.
Fans are hoping Disney isn't tempted to ditch the beloved beeper for a smart phone.
The news comes months after Disney announced a star studded cast for the live action remake of the Lion King.
In 2016 they released The Jungle Book film where we also saw big names voicing photorealistic computer-generated animals.
Listen to Newsbeat live at 12:45 and 17:45 every weekday on BBC Radio 1 and 1Xtra - if you miss us you can listen back here