Jessie Ware: What Rohingya refugees have seen is unspeakable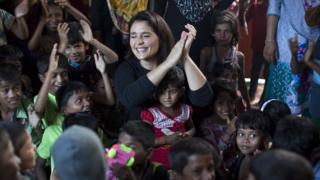 Jessie Ware says children have been split from their families and seen loved ones die during the Rohingya refugee crisis.
More than 700,000 people have left Myanmar since August 2017.
The Rohingya are Muslims who are not recognised as people by the mainly-Buddhist country and have fled to Bangladesh to escape violence.
"What they've seen happen to their family, friends and neighbours is unspeakable," said Jessie.
The singer met Rohingya refugees as part of her work with charity Unicef.
More than 500,000 refugees are living in Cox's Bazar, a camp in Bangladesh, which neighbours Myanmar in South East Asia.
People living there say they fled when military troops started burning their villages and attacking and killing civilians.
Almost 60% of people affected are children, according to Unicef. Many arrive in the camps alone, having walked miles to cross the border.
"Children were everywhere, young children holding babies as if they were their parents. You can't imagine what they've been through," Jessie told Newsbeat.
"One girl I met, a 16-year-old called Minara, had watched her mother and father be killed.
"Then in the chaos of running away from the military, she'd lost her younger brother and sister.
"She believes she'll never see them again."
Yesterday, UK foreign secretary Boris Johnson met Myanmar's de facto leader Aung San Suu Kyi to talk about the crisis.
The United Nations has described the situation as a "textbook example of ethnic cleansing".
Jessie saw how charities are providing food, shelter and education to refugees during her trip in December.
"In the camps there are child-friendly spaces where they can draw," she said.
"Lots of drawings by children when they first got into the camps were of stick men with guns and knives, pictures of houses on fire. It was incredibly depressing.
"To see what they're drawing after a couple of months in the camps is very different. There are flowers and sunshine.
"Hopefully the art therapy is helping them be children again."
Jessie said it's frustrating not being able to help more.
"I'm an entertainer. I can use my platform to spread the word, but I'm not a doctor, I'm not there working in the camps. So yeah, there was a sense of being helpless.
"But there was a really beautiful moment when about 20 kids, they said 'We hear you're a singer. Would you sing for us?'
"They don't speak English, but they were singing We Shall Overcome. I burst into tears.
"It was wonderful to see smiling faces. You don't see that in the camps much."
Listen to Newsbeat live at 12:45 and 17:45 every weekday on BBC Radio 1 and 1Xtra - if you miss us you can listen back here