Gigi Hadid slams body shamers who call her too skinny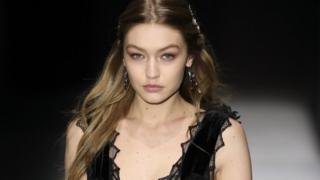 Gigi Hadid has hit out at people who've criticised her for being too skinny.
In a series of tweets she responded to claims she's got thinner - saying it's due to treatment for Hashimoto's thyroiditis.
The disease, which she's spoken about before, can lead to weigh gain, tiredness and dry skin.
The model said she would "not further explain" the way her body looks and that "I may be 'too skinny' for U...but I feel healthier."
She began by suggesting people who once called her too fat were now shaming her for losing weight.
The NHS says Hashimoto's thryroiditis can "take months or years" to be diagnosed and is "caused by the immune system attacking the thyroid gland, making it swell and become damaged."
Gigi said the changes to her body are down to her now being "properly medicated" to help symptoms which include "extreme fatigue and metabolism issues".
And she insisted she wasn't eating any less than she used to, it was that her "body just handles it differently now".
The 22-year-old admitted that "this skinny isn't what I want to be" but said she feels much healthier, before asking others not to judge her.
"I will not further explain the way my body looks, just as anyone, with a body type that doesn't suit ur 'beauty' expectation, shouldn't have to," she said.
Gigi's spoken about body shaming a number of times.
She famously put a long statement on Instagram in 2015 in response to being trolled for the way she looked.
"Don't take your anger out on me," she said.
"Yes I have boobs, I have abs, I have a butt, I have thighs, but I'm not asking for special treatment....Your mean comments don't make me want to change my body."
Listen to Newsbeat live at 12:45 and 17:45 every weekday on BBC Radio 1 and 1Xtra - if you miss us you can listen back here