Oxfam's prostitute scandal: The fundraiser who's shocked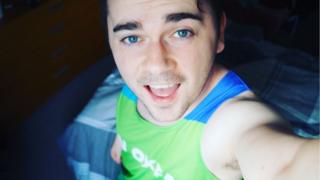 Sam Jackson is running the Paris marathon to raise money for Oxfam in eight week's time.
He's not pulling out, but following the news that Oxfam employees used prostitutes in Haiti in 2011 he has said he would think twice about fundraising for them again.
"It's a shock and it's difficult to deal with," the 23-year-old told Newsbeat.
"From a fundraiser's point of view, it's frustrating to have to justify my decisions to fundraise for them."
Sam confirmed he won't be changing charities for the marathon, however he may not fundraise for Oxfam again anytime soon.
"I disagree with the behaviours of the charity and some of their staff, and secondly if people disapprove of their actions, then they're less likely to donate."
Sam has fundraised for multiple charities and decided to raise money for Oxfam because international aid was an issue close to his heart.
"I've spent some time in East Africa where a lot of that kind of funding goes, so it was the cause I wanted to do and Oxfam was an obvious choice."
However, Sam feels he now has to justify raising money for Oxfam.
Sam said he may consider adding a disclaimer when he shares his online fundraising page.
"You're acutely aware that people will have opinions. I'll probably put a disclaimer saying things like 'I recognise that Oxfam's values to do not equate to some of the things that have gone on'."
Listen to Newsbeat live at 12:45 and 17:45 every weekday on BBC Radio 1 and 1Xtra - if you miss us you can listen back here