Black Panther: UK stars react to 'inspirational' superhero film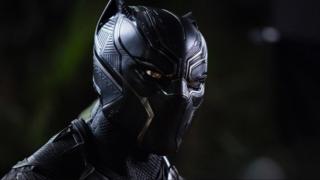 UK stars invited to a special screening of Black Panther described it as "inspirational", "beautiful" and "powerful".
Marvel's latest superhero film sees a majority black cast taking on both its leading and supporting roles.
Chadwick Boseman stars as T'Challa, the king of a fictional African country yet to be discovered or colonised.
Rapper and Roll Deep member J2K said the film is "full of aspiration and it's inspirational too".
It's 6pm and I'm at a cinema located in the basement of a well-known London hotel which comfortably seats 100.
A typical trip to the movies may usually involve arriving just in time to see the last preview trailers before the real action starts.
Not today.
An hour before the screening of Black Panther is due to start all the seats are already full.
The screening has been organised by BBC Radio 1Xtra and guests include musicians, DJs, social media stars and other people considered influential in the black community.
Among them are UK rappers Avelino and J2K and social media commentator Rants N Bants.
The evening is being hosted by 1Xtra presenters Ace and Dotty.
The wait allows the obligatory selfie to be taken and uploaded while conversations range from the day's bad weather to "Who would win in a fight between Thor and Hulk?"
All of a sudden a collective hush descends around the room - similar to instruments being silenced by a conductor.
Entering the room are three of the stars of Black Panther. UK actor Letitia Wright, Michael B. Jordan and Oscar winner Lupita Nyong'o.
Silence soon turns to deafening cheers as the crowd are told the three will be taking part in a special Q+A before the film starts.
Lupita is asked how important it was to her that Africa was seen globally in a positive light.
She said: "I wanted to be an actor because I wanted to tell stories about people who look like me, but I was starved for these kinds of images as a child and so it's a mandate of mine to really demystify what it means to be African.
"I'm a child of the continent and I feel like I'm a citizen of the world and I'm modern and urban and I value my traditions and when [director] Ryan talked to me about this script I was so floored by how full of integrity his story was going to be."
With the Q+A complete the film begins and immediately it's clear why so many people have praised Disney and Marvel for making Black Panther.
The overall narrative of the film is Wakanda is a prosperous, rich, thriving nation that's been untouched by the western world.
Its citizens are happy and wealthy and men and women fight equally side-by-side to protect its borders.
For many black cinema-goers this is the first time they've seen 'themselves' on screen portrayed like this.
"It was a great experience I kind of wish I just watched it when I was 11," says UK rapper Avelino.
"At the same time though there is an 11-year-old who is going to see it so it's all good," he added.
Rapper and Roll Deep member J2K is another who can't hide his excitement as he leaves the cinema.
"The film is super dope man, it's good to see it. It's full of aspiration and it's inspirational too.
"To see our people in those kinds of roles and those leading situations."
Irish-Nigerian broadcaster Emma Dabiri says it would take some time to digest what she'd just witnessed but she was looking forward to taking her son to see it.
"I feel completely overwhelmed I've never seen anything like that in my entire life.
"That whole idea of how an African country might be if it hadn't been colonised the whole idea was so bold. It was just radical and beautiful."
She added it was an important film for people of all colours to see.
Social media commentator Rants N Bants says the movie energised him so much he wanted to hit the gym straight after.
"The screening was mad. Everything I expected and better, I feel great. I want to go Jujitsu and workout. The film spoke volumes it was beautifully written.
"Growing up I was told I can be anything I wanted to be but for people growing up who weren't told that, this will give them the belief 100%."
Listen to Newsbeat live at 12:45 and 17:45 every weekday on BBC Radio 1 and 1Xtra - if you miss us you can listen back here