Hamburg stag do: Brother asks missing Liam Colgan to 'come home'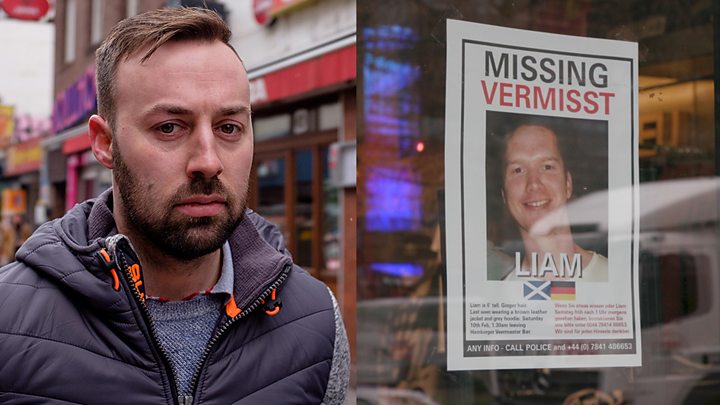 The brother of Liam Colgan, who disappeared on a stag do in Hamburg, has issued a plea for him to get in touch.
Meanwhile German police have said they have "ever growing concern" for him.
Liam, 29, from Inverness, went missing on Saturday during a trip to Germany ahead of his brother Eamonn's wedding.
The family revealed police are investigating a possible sighting of a "confused" man on Wednesday in the Buxtehude area of the city.
Speaking to Newsbeat in Hamburg, Eamonn has sent a message to Liam, saying: "Please, please come home. Everyone misses you. You're very much loved."
"I don't know what happened to you, just please get in touch, find a way."
Eamonn, 33, is supposed to be getting married in two weeks' time.
Liam had organised the whole stag do and was in charge of all the arrangements.
'Not actively looking' in river Elbe
Hamburg police have told Newsbeat they are "not actively looking" for Liam in the Elbe (the city's main river) - but say they're doing everything they can to find him.
Officers say they acted "very, very quickly" when he was reported missing.
"We came to the conclusion that, even though this is a 29-year-old male, he was highly alcoholised in a city he doesn't know, possibly without orientation," a police spokesperson told Newsbeat.
"So we have to presume, especially with the temperatures outside, that this is in fact a threat to his life and wellbeing."
The group arrived in Hamburg last Friday and headed out to the Reeperbahn area of the city. It's famous for its nightlife - from bars and restaurants to sex shops and strip clubs.
"We went to a few different bars and by the end of the night our group had splintered a bit - that's what happens on nights out," says Eamonn.
The last bar they were in was the Hamborger Viermaster.
"We thought Liam had left just a couple of minutes before us," remembers Eamonn.
"When he wasn't waiting for us outside, there was no reason to panic. He'd organised the whole trip so he'd researched the city and knew better than any of us how to get home."
But when Eamonn woke the next morning, Liam wasn't there.
"That's when panic set in. I was sharing a room with him. We looked in all the other rooms but there was no sign of him."
Eamonn was worried enough to go straight to the police.
But because it's not uncommon for people to go missing on stag nights, officers in Hamburg couldn't treat it as a missing persons case until 24 hours had passed.
"We knew something was wrong.
"He would've returned, he would've known we'd be worrying - especially as his mobile phone battery had died so he knew we couldn't contact him."
Eamonn and Liam's dad had been on the trip too. But calling his mum back home was hard.
"I don't think she really took it in - I think she thought he'd just turn up.
"It's probably more difficult now when he's been missing a few days. I find talking to the media much easier than calling home - because that's when it gets upsetting."
Officers in Hamburg have made contact with hospitals and taxi companies, used search dogs, conducted witness interviews, published photographs in newspapers, TV and online and tried to find his mobile phone.
Initially Eamonn, a police officer himself, went home.
"Going back without him was horrible. I felt guilty about leaving," he says.
He's now back in the German city to help the police and is trying to get Liam's face shown around Hamburg as much as possible.
"We are getting more people coming forward. We don't know if it'll lead to anything but it makes me feel more positive.
"We just have to keep thinking we'll get that bit of information that we need to find him and get him home."
Until Liam's family finds out what happened, Eamonn's wedding won't be a priority.
"The wedding is not even a thought to me or my fiancee", he says.
"It won't be going ahead without Liam.
"I can't even say 'if'. When we bring him home, we can worry about the wedding. It's not a thought just now. We're just doing whatever we can to find him."
Listen to Newsbeat live at 12:45 and 17:45 every weekday on BBC Radio 1 and 1Xtra - if you miss us you can listen back here