NME Awards: 'You can't continue to ignore female talent'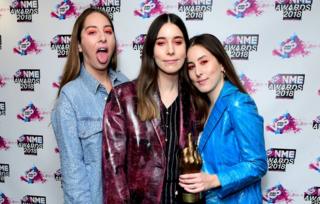 The editor of NME says it shouldn't be possible for music award ceremonies to ignore female talent.
Nine of this year's NME awards were won by women or female-front acts, after Charli XCX and Lorde led the nominations.
"We're just trying to talk about what's relevant," Mike Williams tells Newsbeat.
It follows criticism of The Grammys, where 17 of the 86 awards went to women.
'It shouldn't be a plaster'
The Big Moon's track Sucker won best video, a category which was made up entirely of females or female-fronted acts.
The band say it's something they "hadn't thought about in that way".
"It is nice to see that happening but token gestures don't affect fundamental change," says bassist Celia Archer.
"It is amazing and they are incredibly talented artists but I don't want it to be a plaster over quite an important issue."
Mike Williams suggests the female representation at this year's ceremony wasn't a conscious effort and was simply celebrating talent.
"We haven't said 'oh well if there's 10 nominations let's make sure at least two of them are women' or anything like that.
"It's just a natural thing where you talk about who the best artists are, you can't do that without it being a female dominated list now."
'We're sick of it'
HAIM, who won best international group, claim there's still a lot of work to do when it comes to gender imbalance in the music industry as a whole.
Bassist Este says: "I really feel like it's a very exciting time for women because I feel like we're banding together and making a change because we're sick of it.
"We want to let anyone that identifies as a girl know any time they walk into a guitar shop or a recording studio, they should feel empowered.
"They shouldn't let any one intimidate them, they belong there."
Her sister Alana describes how they've struggled to get where they are in their career.
"When we were first recording our demos and our EPs, we'd go into a studio and there'd be male engineers, there wouldn't even be female runners.
"Even though we have each other we've still had to go through so much. We've been to venues where people treat us differently because we're women."
Listen to Newsbeat live at 12:45 and 17:45 every weekday on BBC Radio 1 and 1Xtra - if you miss us you can listen back here