London Fashion Week: Clothes made from recycled plastic
By Hannah Moore
Newsbeat reporter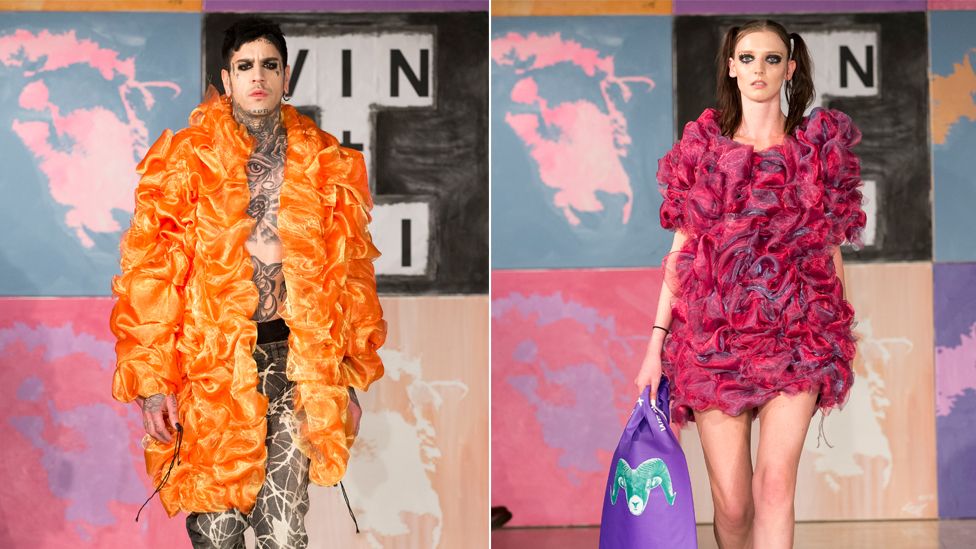 Two designers at London Fashion Week say their clothes made from plastic bottles and sustainable wool have a "political message".
Vin and Omi say it's almost impossible for low-cost high street clothes to be ethical.
The pair make their own textiles and say they want people to think about the waste created by our clothes.
"We never planned to be designers but we have a political message," Omi tells Newsbeat. "Fashion is the best medium."
The slogan of their show, featuring models in east London, was "we are not sheep".
Vin and Omi have developed 11 'eco-textiles', including 'leathers' made from the skins of chestnuts, and wool-like fabrics made from recycled plastic bottles.
"It all started when we made this t-shirt made from recycled plastic fabric," Omi says.
"When it came back from the manufacturers it was so soft, like a cotton-cashmere blend. From there it became an obsession to see what we could do next.
"The bottles are turned into chips. They're melted and stretched, then turned into yarn that we can weave just like fabric."
Big fashion brands often produce clothes which end up unsold or sent to landfill.
How long do you keep clothes for?
In the UK, we bought 1.13 million tonnes of clothing in 2016, according to the charity Wrap, but we only tend to keep clothes for an average of three years.
Vin and Omi are also trying a new way of recycling what they've already made.
Customers who get tired of an item can send it back to the designers, who will reuse it in future collections.
The customer then gets a discount off the next thing they buy.
"It's not a very clever practice, because you're actually buying your own clothes back," laughs Omi.
"But the point is, it becomes circular. We're making money again by selling new designs."
Omi says it's difficult for high street retailers to be ethical if they are producing low-cost clothes and shipping them around the world.
"If a t-shirt costs £6, break down the cost. There's no way it's been made in good conditions," he says.
But there are signs the industry is changing.
The British Fashion Council, which oversees designers, has launched an initiative called Positive Fashion, which rewards designers who, like Vin and Omi, meet certain ethical standards.
This includes things like manufacturing in the UK and switching to green energy sources.
"We as designers are the culprits, because we make things to inspire people," adds Omi.
"But as a single designer I can't change the industry."