Couple surprise each other by proposing at the same time
By Tracy Ollerenshaw
Newsbeat reporter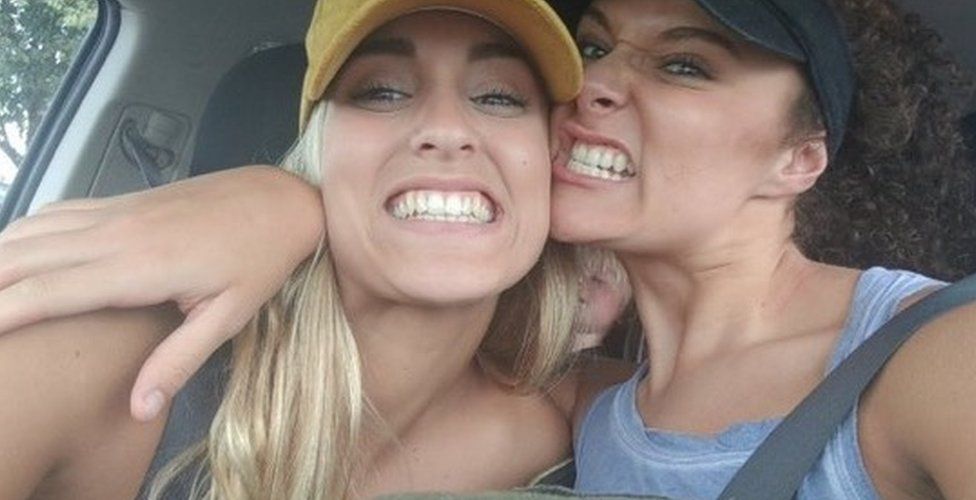 A US couple got an incredible surprise when they proposed to each other at the same time.
Tori, from Texas, had been plotting with her girlfriend's mum to pop the question, not knowing girlfriend Berkley was doing the same.
"She basically set us up," the 20-year-old fine arts student told Newsbeat.
A video of the surprise proposal has gone viral, with 4.8m views at the time of writing.
They've been together for a year and Tori tells us it's the first gay relationship either of them has been in.
"Berkley's family are our biggest supporters but my family have had a difficult time accepting the situation.
"I'm the first gay person in my family, ever."
"When I said to Berkley's mum, 'I may've stumbled into a jewellery shop and bought a ring for your daughter', her response was, 'this is meant to be.'"
"We went to Washington to visit Berkley's family and it was games night. There were aunts, uncles, sisters, mum and best friend. Around 20 people."
And it was during a game of Pictionary the magical moment happened.
"It was a crazy surprise to see that we were viral!" Tori says.
They decided to put the video on their Facebook page as it's the "easiest way to keep family in the loop".
But a cousin took a clip and posted it on Twitter and within days it had gone from a few thousand views to more than 4.5m.
The date for the wedding has already been set for 27 September 2019.
"It will be in Texas, outdoor, with a lot of lights and a lot of family."
And will they have a separate bachelorette party?
"We'll do it all together," gushes Tori.
"That's my favourite thing about being with a woman, they're your best friend and you get to do everything with them."