Adwoa Aboah: Fear of abuse is 'rampant' in fashion industry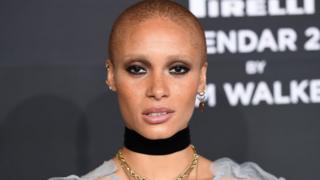 Adwoa Aboah says many models are scared of being abused at work.
"Fear has run rampant amongst our community of models. Far too many young models, both women and men, are mistreated and put at risk," she said.
The London-born model was speaking to industry insiders at the start of London Fashion Week.
Adwoa was the first cover star for Vogue under new boss Edward Enniful and has worked with many famous fashion houses.
She is also an ambassador for the British Fashion Council (BFC) initiative Positive Fashion, which aims to improve working conditions within the industry.
Models, photographers and stylists have previously spoken to Newsbeat about being sexually harassed and bullied at work.
The BFC has set up a helpline for models to report abuse during fashion week.
It is also trialling private changing areas for models so they are not photographed while getting dressed.
Adwoa said she has not been the victim of abuse herself, but many young women and men at the start of their careers don't have as much protection as she does.
"We must work tirelessly to ensure that we empower them to have a voice and not be scared," she continued.
She said people at the top of the industry had allowed a "rampant abuse of power and fear" to silence those who are younger or less powerful.
Listen to Newsbeat live at 12:45 and 17:45 every weekday on BBC Radio 1 and 1Xtra - if you miss us you can listen back here