Ashish: My LFW catwalk reflects British diversity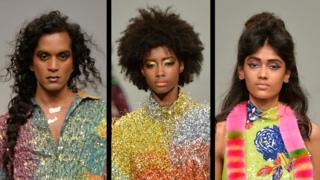 Ashish says the models in his London Fashion Week show reflect Britain's diversity.
The designer's multicoloured "midnight market" theme was inspired by the sequin shops of his home city, Delhi, and featured models of different ethnicities.
"Fashion should represent people in real life," he tells Newsbeat.
"When you get on a train you don't just see 6ft tall white girls. You see mixes of all people."
His Sunday night show was set in a clothing stall and mixed 1970s disco with nods to Indian culture.
Ashish's signature heavy sequins and slogan jumpers were on display over pussybow blouses and rainbow coloured jumpsuits, with models carrying cheap plastic shopping bags.
"I had the idea of this magical midnight market. It was me going back to my roots, celebrating immigrant communities," the designer said backstage.
"I wanted to mix high and low cultures."
Ashish's shows are known for featuring a racially diverse cast of models, and the designer has been outspoken in his support of immigrant communities in the UK.
Following the EU referendum, he released a jumper with the word "Immigrant", and a t-shirt that said "Everyone is welcome. Diversity is strength".
This A/W show may not have been as obviously political, but Ashish's message of equality remained.
"I think diversity's really important, and I cast my shows as it is in real life.
"In real life you meet people who speak different languages and come from different places. We're all travellers in a way," he said.
"If you're only going to have one type of model on a runway, what message is that sending out to young people?
"It's important to represent different types of people so that everyone has something to aspire to."
London's catwalks are the second most racially diverse in the world, after New York.
Figures from the British Fashion Council show 31% of models who walked during fashion week in September were non-white.
But the BFC says it wants that figure at closer to 40%, the percentage of black and minority ethnic (BAME) people living in London.
Ashish says Instagram has been particularly positive in opening the fashion world up to people from different cultures and classes.
"It's a great way to reach people who wouldn't normally have access to fashion," he said.
"To present them with things that would be interesting to them, and to reflect them too."
Listen to Newsbeat live at 12:45 and 17:45 every weekday on BBC Radio 1 and 1Xtra - if you miss us you can listen back here