Black Panther director Ryan Coogler's emotional note to fans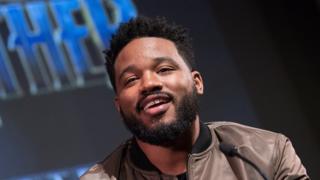 Ryan Coogler says he "never imagined" Black Panther would be so popular.
The director has written a message thanking fans, many who have dressed up and even hired out cinemas to watch the superhero film.
"Never in a million years did we imagine that you all would come out this strong," he said.
The film has taken $426.6 million (around £305 million) worldwide in a week, and broken US box office records.
"It still humbles me to think that people care enough to spend their money and time watching our film," the 31-year-old said in the note, shared by Marvel Studios.
"But to see people of all backgrounds wearing clothing that celebrates their heritage, taking pictures next to our posters with their friends and family, and sometimes dancing in the lobbies of theaters [sic] - often moved me and my wife to tears."
Black Panther, which stars Lupita Nyong'o, Michael B. Jordan and Daniel Kaluuya, has been praised for its positive depiction of Africa.
It's also been celebrated as important for representation.
Tinie Tempah, who said he didn't see many films with main characters "the same skin tone as me" growing up, is among the people and organisations who hired out cinemas for special screenings of the film for young people.
Ryan, who also directed Michael B. Jordan in Creed and Fruitvale Station, said the cast and crew had "poured their hearts and souls" into it.
"For the people who bought out theaters [sic], who posted on social about how lit the film would be, bragged about our awesome cast, picked out outfits to wear, and who stood in line in theaters [sic] all over the world - all before seeing the film.
"To the press who wrote about the film for folks who hadn't yet seen it, and encouraged audiences to come out.
"And to the young ones, who came out with their parents, with their mentors, and with their friends, thank you for giving our team of filmmakers the greatest gift."
Black Panther made an estimated $241.9 million (around £173 million) in its opening weekend in the US, the most a film has ever taken across Presidents Day weekend.
The record was previously held by Deadpool, which opened at $152 million (around £109 million) over the same weekend in 2016.
Marvel creator Stan Lee has tweeted his congratulations.
Listen to Newsbeat live at 12:45 and 17:45 every weekday on BBC Radio 1 and 1Xtra - if you miss us you can listen back here