Brit Awards 2018: Jack Whitehall's best one-liners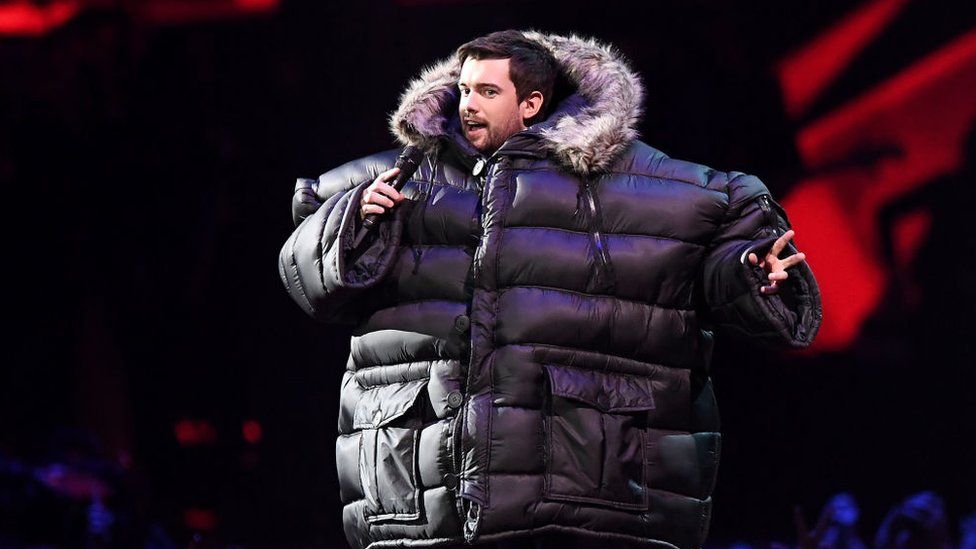 Comedian Jack Whitehall hosted the Brit Awards for the very first time this year.
And he proved he's pretty good at his day job with some hilarious one-liners.
Rag'n'Bone Man took to the stage to perform Skin and it included a dramatic fire display.
After the performance, Jack took aim at The Voice coach Olly Murs.
He said: "That was a controlled blaze by the way. Apparently Olly Murs was in the toilet tweeting about it."
He was referring to Olly's tweets from back in November when police responded to reports of an incident in Oxford Circus in London.
The singer told his Twitter followers he was in the "back office" of a Selfridges store and everyone should get out because of "gun shots".
Olly appeared to take the swipe in a light-hearted way and the camera showed him laughing at his table.
Getting cosy with Cheryl and Liam Payne
Jack joined the couple at their table and referred to Liam as "Cheryl's plus one".
He asked them how their "date night" was going and said he had a big question for them.
"I know it's past his bedtime but is the little fella watching at home?"
He told them that they should give him a wave just in case.
Everyone thought he must've been referring to their son Bear, but oh no...
"Hello Niall," Jack added.
Little Mix's Jesy and her accent
Jack sat with Little Mix who were up for best video at the awards ceremony.
He pointed out that last month the band hit three billion views on YouTube.
"Only two billion of those are people watching you try to do a Jamaican accent Jesy," he said.
He was referring to when the singer tried to well... do a Jamaican accent.
Jesy didn't look too impressed with the joke and her band mates laughed in shock.
Simon Cowell and the North Korean 'cheerleaders'
During the show, Jack Whitehall introduced the audience to the North Korean "cheerleading team".
They waved and held up masks of North Korean leader Kim-Jong Un to which Jack said: "Ladies, remember I said we can't wear that evil dictator's mask live on ITV".
The cheerleaders - aka members of the audience - went on to hold up masks showing Simon Cowell's face instead.
"Much better," Jack added. "Weirdly same hair cut".
The writings on the wall for Sam Smith
Oscar-winner Sam Smith was among the guests and even he didn't escape Jack's jokes.
"If you like Adele songs but find them too upbeat you're in for a treat," he said.
"Sam Smith will be performing."