Ariana Grande and Troye Sivan have recorded a song together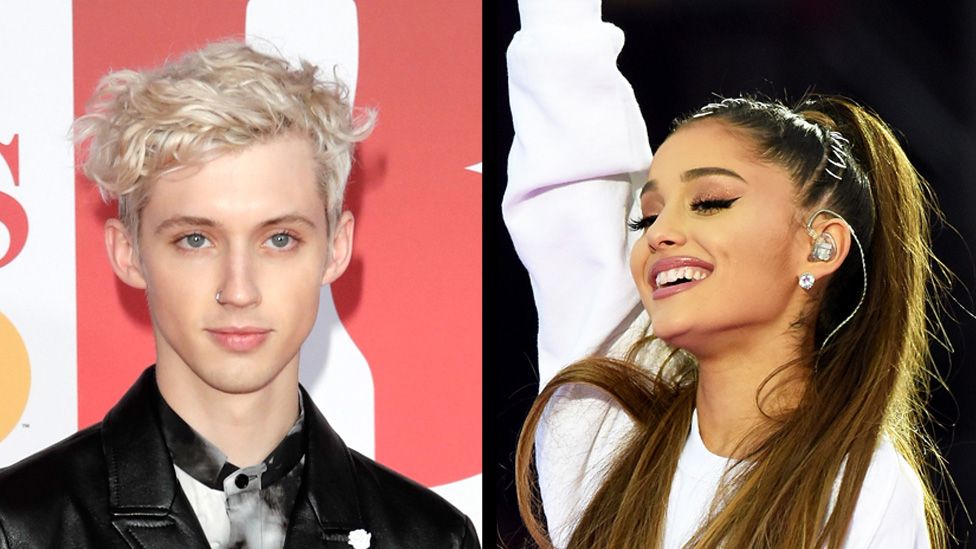 Troye Sivan has revealed he's recorded a song with Ariana Grande.
The My My My! singer told BBC Radio 1's Nick Grimshaw he'd written the track for his latest album, expected this year.
"This was not a planned announcement," said the 22-year-old. "But I'm so excited. It sounds exactly like I dreamt it would. "
Ariana, who last released an album in 2016, has also been sharing clips of new music on social media.
Yes!!! The rumours are trumours!! @arianagrande is my pop queen and i can't wait for you guys to hear our song🌹❤️💓

— troye sivan (@troyesivan) February 23, 2018
The Australian star said he was "hanging out" with Ariana when he played her a demo of the track.
"Her and I are friends. She's really fun.
"I said 'would you ever sing on this song?' And she just did it.
"My favourite thing is not telling people who it is, and then starting to play the song and as soon as she starts to sing, everyone's like 'are you serious?' Her voice is nuts."
Troye's as-yet-unnamed second album is due for release this year.
In an interview with radio show PopBuzz, he said he'd written a track with Call Me Maybe singer Carly Rae Jepson, but that it didn't fit with the sound of the album.
He told Nick the album is likely to feature other duets.
And he also revealed the idea for My My My! came to him in an unusual place - while he was on the toilet in a cafe.
"I heard through the door the sound of this little kickdrum and ran out to check what was playing.
"I took it into the studio and that was the starting point for [the track].
Troye, who speaks openly about his sexuality, said he wanted the track to be "really gay".
"The video is just me being as gay as I want.
"Leather waistcoat, strutting up and down, wind machine, all of it. It made me so happy."
Meanwhile, Ariana has been sharing clips of the music she's working on.
The singer was forced to pull out of performing at this week's Brit Awards because of illness.
Liam Gallagher stepped in to sing a tribute to the 22 people killed in the terror attack at Ariana's Manchester Arena gig in May.