Is the Snapchat party over?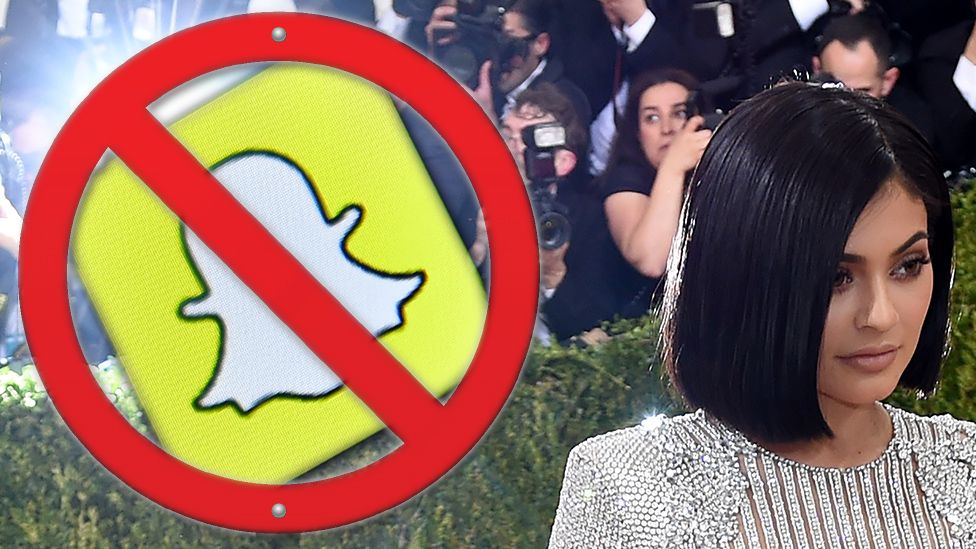 A tweet from Kylie Jenner wiped £1bn off Snap's stock market value after she said she's no longer using Snapchat.
Her decision comes amid a backlash against the app's latest design which fans really don't like.
And it appears she may not be alone in abandoning the app.
Magician Julius Dein, who has 20m followers across all social media platforms, says he has noticed a significant decline in his Snapchat daily viewers.
"I had 400,000-500,000 followers at one point and then over the last year it's declined to about 200,000-300,000.
"And then in the last two weeks it's declined to about 130,000-140,000."
He does say that it could just be people finding him "boring", but he also says his Instagram Stories viewers has increased in the same period.
Could Kylie be onto something?
Julius agrees with Kylie - he doesn't like the new update either.
sooo does anyone else not open Snapchat anymore? Or is it just me... ugh this is so sad.

— Kylie Jenner (@KylieJenner) February 21, 2018
"Although what I will say is that every time there has been a major update released on Facebook, Snapchat or Twitter everyone always complains and then gets used to it very quickly.
"There's petitions every time."
We've been here before - remember Best Friends?
The update in 2015, which introduced the Discover feature, was certainly not popular either.
It took over from the popular Best Friends tab.
The new version put content from Discover, where sites such as the Daily Mail and Cosmopolitan contribute articles, to the top of Stories.
Back then, Stories was typically where content from friends was housed.
But Snapchat stood its ground, the changes remained and users stopped complaining eventually.
In August 2016, Instagram introduced its own Stories feature and some argued that it was a carbon copy of what Snapchat offers.
"Instagram has literally decided to become Snapchat," user Harry Seaton tweeted.
Julius says that Snapchat was "an amazing concept" in the beginning and its Stories feature "was its real big shot and the reason it became so big".
But now they face stiff competition from Instagram and Facebook who also offer exactly the same.
So is there a #SnapchatIsOverParty?
Maybe it's not quite the end - Kylie said it's her "first love".
And Julius thinks the app's future it depends on Snapchat founder Evan Spiegal's innovation.
"Maybe they can become a TV platform where they host different channels."
Ok snapchat lesbereal . I want to see my friends snap not lifeless people who I don't know and do not want to know and are classified as popular story because they are public account. #snapchatdown #snapchatisoverparty remove the update

— C.Rose (@amys_circus) February 23, 2018
He says he would have to have zero followers on Snapchat before he stopped using it, but doesn't seem to be confident in the direction its going.
"I have a significant audience on Snapchat which I can't ignore.
"I'm not sure what the future holds for Snapchat, but it's not looking good."
Snapchat is standing its ground.
But how much has this really affected the number of daily users?
The company are notoriously secretive with their numbers, so there's no real way to tell.