Nadine Coyle is 'in talks' to appear in Derry Girls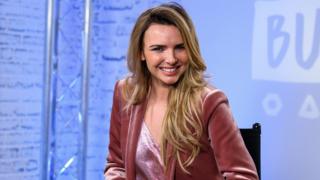 Nadine Coyle says she's likely to be in series two of Derry Girls.
The former Girls Aloud star told Newsbeat she's in talks with the writer of the Channel 4 show, which is set in her home city.
"We're trying to work it out that I'll be in the next series," said the Irish singer.
The comedy, written by Lisa McGee, is set during The Troubles in Northern Ireland in the 1990s.
"Since the first series we've got in contact. We even went to the same school. So we have to do something."
The Troubles refers to violence that began in Londonderry in 1968 and ended with the Good Friday Agreement in 1998.
The disagreement was about whether Northern Ireland should remain part of the UK or join the Republic of Ireland.
Derry Girls is Channel 4's most successful new comedy in 14 years, with an average of 2.5million people watching each episode across the UK.
The 32-year-old said the show reflects her childhood.
"Everything is so similar. It shows a Catholic grammar school with nuns as teachers, and how the army would walk on the school bus to make sure there's nothing on there.
"It's funny how I'm so used to it, and now watching it I realise how out there it was."
Nadine said she was amazed when she heard a TV show had been made about Derry.
"I was seeing the adverts and thinking 'how are they going to do this?'
"I've always had so much abuse about my accent."
Series two of the show is expected to begin filming later in 2018.
Newsbeat has contacted Channel 4 for comment.
Listen to Newsbeat live at 12:45 and 17:45 every weekday on BBC Radio 1 and 1Xtra - if you miss us you can listen back here