Tesco 'extremely sorry' for Black Panther costume mistake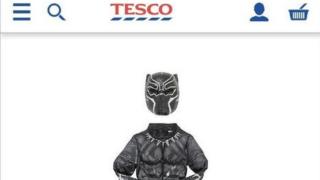 Tesco says it's "extremely sorry" for labelling a fancy dress costume as Dark Panther, instead of Black Panther.
Despite the superhero film smashing box office records, the title seems to have been tricky to get right for the store.
The costume on its website is of T'Challa - the main character in the film - who is very definitely called Black Panther. Not Dark Panther.
Tesco apologised after people on Twitter demanded to know what was going on.
On Tesco's website, it was labelled as "Marvel Avengers Dark Panther Fancy Dress Costume". The page is not currently working.
Some wondered whether this was the ultimate own-brand offering.
In a statement to Newsbeat, Tesco said: "This was a mistake and we are extremely sorry for any offence caused.
"We are correcting the description of this product on our website and are reviewing our processes to ensure this doesn't happen again."
It's certainly a mistake - and a pretty big one, given the nature of the film.
Black Panther is the first ever superhero film with a predominantly black cast - many who speak with accents from across Africa.
Black Panther, based on the Marvel comic book character, revolves around the ruler of a fictional central African nation who moonlights as a costumed crime-fighter.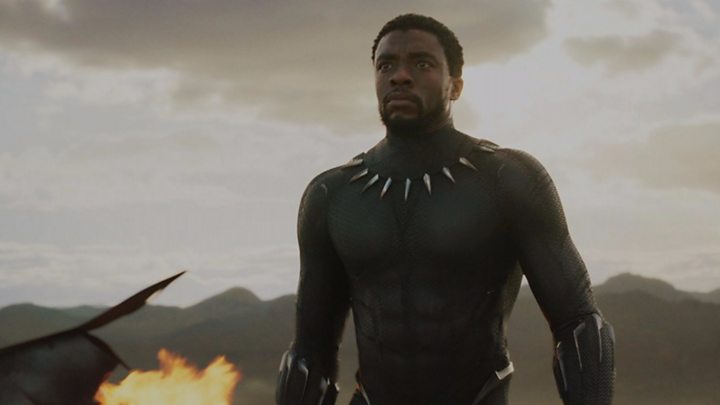 The film more than doubled the amount of money it was predicted to make on its opening weekend - raking in $242m (£173m) in the US and Canada.
Although Tesco has apologised, the store's been accused of not doing something sooner.
Tesco has so far not commented on when it was first told there was a problem.
Listen to Newsbeat live at 12:45 and 17:45 every weekday on BBC Radio 1 and 1Xtra - if you miss us you can listen back here