Beast from the East: How the weather got a Hollywood makeover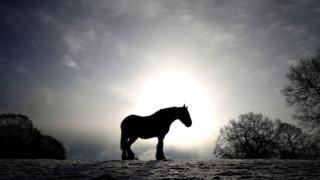 Step outside if you dare.
The Beast from the East is unleashing a snow bomb super cyclone polar vortex monster storm.
Or "winter" as it used to be called.
Our obsession with the weather is nothing new. But the language used to describe it seems to have had something of a Hollywood makeover in recent years.
So what changed - how did the weather get a rebrand?
"Going back in history, people talked about storms and clouds, likening them to animals and magical forces," says Peter Moore, author of The Weather Experiment - which looks at how the forecast was invented in the 1860s by Admiral Robert Fitzroy.
The famous sailor was determined to provide accurate information described in the most simple, factual terms to prevent so many deaths at sea.
All well and good. But he didn't live during a time of rolling news.
"Nowadays, news is a 24-hour business and the weather if part of that," says Peter.
"People can follow the progress and growth of these storms every 15 minutes or so, so you can make real stories out of them, infuse them with narrative.
"Maybe we're rediscovering the poetry and storytelling power of the weather in the 24-hour news world."
If you want a good story, you need good characters. That's why 2015 was a big moment in the weather plot.
That's when the Met Office started giving names to UK storms.
"Once you give something a name, you give it a personality, people become invested in it," explains Peter.
For example "Beryl's smashing everything in her path" is far more emotive than "It's rather windy outside".
"Beast from the East? It's absolutely brilliant," says Peter.
"It's really infusing a weather event with very dramatic character traits. And that means people can have fun with it on social media."
But what of the actual terms used to describe the weather? Have they been sexed-up?
"There's certainly more of an appetite for weather and that means making it more accessible," says BBC Weather forecaster Chris Fawkes.
Hence the relatively recent arrival of the "weather bomb".
"It actually refers to a 'rapid cyclogenesis' and is something forecasters discuss amongst themselves all the time. But it doesn't exactly trip off the tongue," admits Chris.
"Weather bomb grabs your attention far better."
It certainly paints a picture. But if you want the actual definition it refers to a 24 millibar fall in pressure over a 24-hour period.
You see, you're already glazing over - so here's a picture of some cute cows in the snow.
Chris thinks as well as a tabloid trend to follow America's use of hyperbole - for example "Snowmageddon!" - there's another reason for the more colourful descriptions.
"20 or 30 years ago, people were watching daily forecasts with a great deal of scepticism, wondering if they were going to be right or wrong," he says.
"Five-day forecasts are much more accurate now - so there's much more time to talk about the weather.
"This means we can bring much more language to describe the processes of what's going on in the atmosphere."
Which brings things neatly back to the "Beast from the East" and Admiral Robert Fitzroy.
What would he make of the weather being described in such a way?
"I think he'd be rather disappointed," says Peter.
"It doesn't really convey any useful information - other than there's a really good story and it's something to be scared of.
"That's what Fitzroy was trying to get away from. He wanted to show things in clear, simple words while sticking to the facts.
"Now, it's the opposite."
Follow Newsbeat on Instagram, Facebook and Twitter.
Listen to Newsbeat live at 12:45 and 17:45 every weekday on BBC Radio 1 and 1Xtra - if you miss us you can listen back here.