'How my rugby team-mates saved me from domestic abuse'
By Daniel Rosney
Newsbeat reporter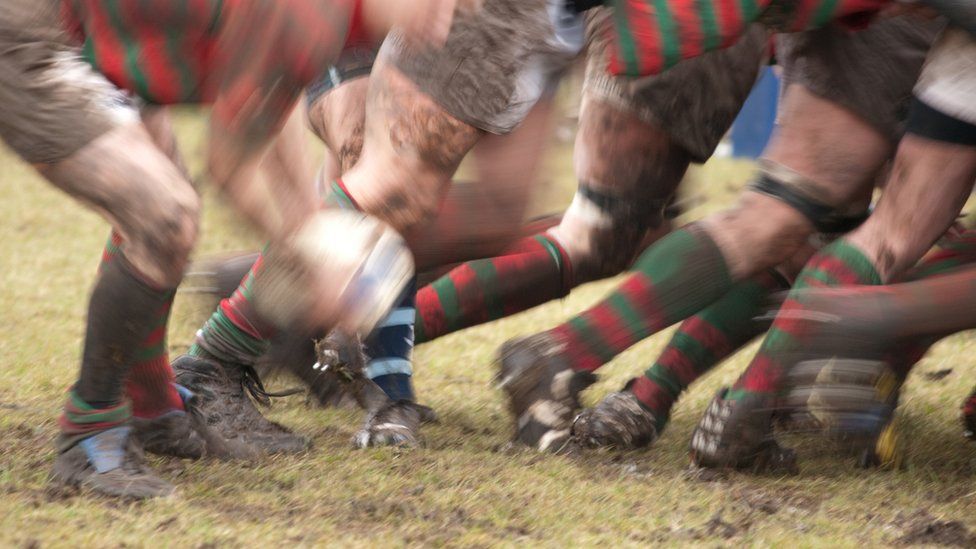 James is a 28-year-old 6ft 3in rugby player who weighs 20 stone and for 18 months was a domestic abuse victim.
"What started as a slap became a kick, a punch, a bite and a scratch," he explains to Newsbeat.
The relationship left James with a broken cheekbone, bruised ribs and a black eye.
His ex-girlfriend was a foot shorter and slim but "had one hell of a right hook".
James - whose name has been changed to protect his identity - says he made the decision "to never raise a hand to her".
"The first six months were what I would class as a perfect six months of a relationship," he remembers. "We were happy, head over heels and had very few arguments."
But during an argument over where they were going out for dinner one night, his ex "lashed out".
'She would bite me or she would punch me in the face'
"She caught me in the side of the face, it was a swing of a punch and I kind of stood there. It was that shock of going: 'You've just hit me'.
"I looked at her and she very quickly apologised and I left it by the wayside."
Their relationship deteriorated and James would regularly face violence from her without warning.
"If I did something that she classed as wrong, she would either kick me or she would bite me or she would punch me in the face," he explains.
"You get into that cycle: 'I'm just going to keep you off me long enough for you to calm down' - and I realised once she hit me a few times she'd calm down."
'Still madly in love with her'
The charity Mankind, which supports men suffering from domestic violence, says it hears stories like James's "all the time".
It's especially young men who don't realise they're victims, the charity says.
James didn't admit he was a victim, ask for help, or tell anyone what was happening.
He says, at the time, he was "still madly in love with her".
"It was literally like a flick of a switch, she'd go from extremely angry, horrific and violent, to lovely, calm and apologetic.
"It's difficult to understand but I did love her, I loved her very much and didn't want to hurt her. I didn't want to raise my hand to her."
James eventually left the relationship but it wasn't initially his decision.
"I came into training one afternoon with a black eye and bruising on my ribs," he remembers.
"I went to take my shirt off to get changed and the coach just came over and put his arm around me and said 'me and you, we're going to go have a chat'."
James says he used to use rugby as an excuse for his unexplained injuries.
"He sat me down and went 'no lies, no kind love, no covering up. What is going on? You can say you get them on Saturday all you like but I watched you and you didn't get caught in the eye, you didn't get caught in the ribs'."
'I realised I didn't need her as much as I thought I did'
"I regurgitated everything that had gone on," James explains. "That was the only time that I sat down and cried."
His ex went away for a weekend and, after she left, his group of friends came round with a van and moved him out in the space of two days.
"I slept on a couch for a week-and-a-half until I could find somewhere else to live.
"They confiscated my phone so I couldn't contact her and after a week-and-a-half I realised I didn't need her as much as I thought I did."
"I'm very lucky. With rugby you naturally have a group of close friends and we are now even closer," he says.
He decided not to report his ex-girlfriend to the police, and says he's been able to move on.
"I don't let it define me," he says. "I decided I was never going to let being a victim or being attacked define me.
"I grew up, and now wake up and see life slightly differently."
If you want information or support on domestic abuse, visit BBC Advice.