How to take the perfect snow snap
Interview by Will Chalk
Newsbeat reporter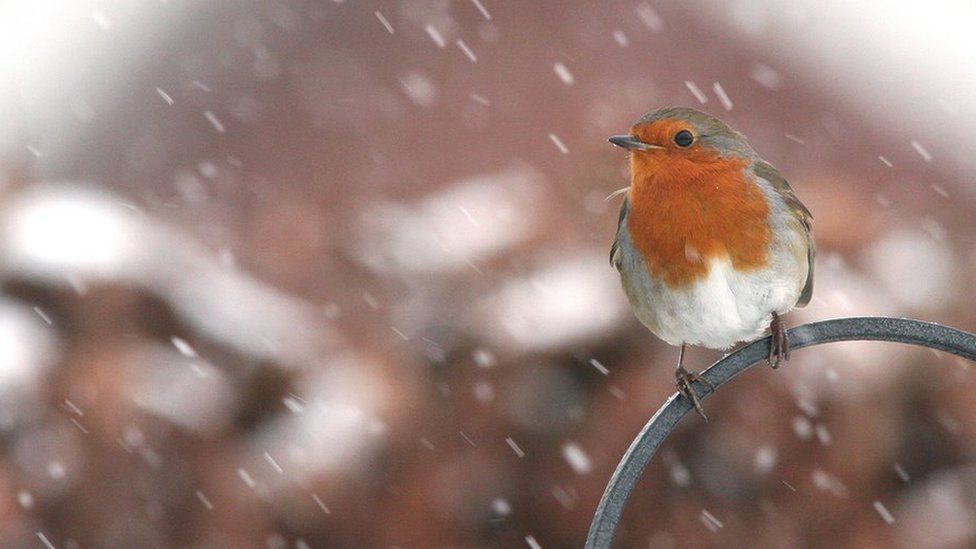 But it's not just travel that's being disrupted - social media, too, has become clogged up with endless, monotonous, snow photos.
So how do you make sure your Instagram snaps stand out from the crowd?
We've got some tips from Gideon Knight, 17, from London, who was named Young Wildlife Photographer of the Year in 2016.
"You need something in the foreground that stands out against the snow, something with good colours," Gideon says.
"If I saw a gull sitting a field it would be difficult, but if there's something with more colour - a robin for example - the red in its breast will stand out really well against the snow.
"So picking something with a bit more colour can really help pop the image."
But, he says, you can also achieve this by changing your background.
"If it's still snowing and you want to get a shot of some snowdrops, a good trick is to use something dark in the background like a holly bush.
"This way the white snow shows up really well against it.
"Shooting white on white makes everything look like a blizzard."
"One of the most important things in snow, which people have a lot of difficulty with, is making the picture look like what your eyes are seeing," Gideon says.
"Because snow is so white, when light enters the camera it makes it think it's looking at something really bright.
"So it automatically tries to compensate for that brightness and makes the overall image look darker and a bit grey.
"If you can - you should over expose it, or turn up the brightness, which will give a crisp, white colour - like the one you see with your eyes."
This might sound a bit complicated - but Gideon says most phones have features or apps for it.
"One of the best rules for photography is the rule of thirds, which means you section your image up into a three-by-three grid and compose your image along the lines," Gideon says.
"In basic terms this means you don't put your subject in the centre - you put them off to the right or off to the left which gives you a better balance to the image.
"Then, if you have something in the foreground on the right, it's often good to have something balancing it on the left of the image in the background."
"If you're walking through the snow you won't always want your footprints in the picture, so think about where you want to take your image before you walk into the shot," Gideon explains.
"Then you've got the pristine snow without your footprints in it.
"And, finally, wrap up warm - I've been out on shoots in the snow before and it can be very hard to keep at it!"
A version of this article was originally published on 11 December 2017.