UK weather: Six gifts the Beast from the East has given us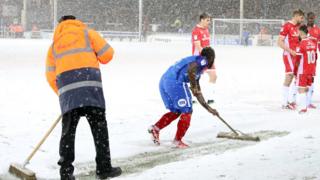 You're cold, you're wet, you can't feel your toes and your train has been cancelled.
It's easy to focus on the negatives at a time like this, when an icy Russian weather front is ploughing its way across the UK.
But the bitter cold has also brought out the best in people.
Here are six of the biggest gifts the almighty Beast from the East has bestowed on us.
1. Cats with snowballs
Ladies and gentlemen, a cat catching a snowball.
Just look at him go.
2. Footballers with... brooms?
Peterborough United's Steven Taylor there, cracking out a broom so their match against Walsall could finish on Tuesday night.
Heavy snow meant the League One game was almost called off with 15 minutes to play.
But thanks to some world-class sweeping from the Posh squad, the ref decided the lines were clear enough to carry on.
Peterborough went on to win 2-1.
3. Footballers with food
Not even brooms could have helped Salford FC at the weekend, though.
A frozen pitch meant their match on Saturday was called off just 90 minutes before the game started.
We know what you're thinking - what happened to all the half-time pies?
Well, it turns out the managers weren't prepared to let food go to waste and donated all 150 of them, and four vats of soup, to a local homeless charity.
4. Scarves for everyone
The same spirit has taken over Bristol - with people tying hats and scarves to lamp posts and bollards, alongside a note saying: "I am not lost, feel free to use me if you are cold".
It's part of an annual campaign to help the homeless called #KeepBristolWarm.
5. Londoners with skis
Over in London, things have taken a slightly more surreal turn.
Although we're not strictly convinced it's necessary, we applaud the effort.
6. Metal bands with fortunate album names
Okay so this last one's a bit tenuous - but bear with us.
As well as being the given name of a Siberian weather system, Beast from the East is also a 1988 live album by the American metal band Dokken.
Presumably, although we have absolutely no evidence whatsoever to back this up, they're now doing so well out of the inevitable surge in album sales that they're living it up on their own private island.
At least somebody out there is staying warm.
Follow Newsbeat on Instagram, Facebook and Twitter.
Listen to Newsbeat live at 12:45 and 17:45 every weekday on BBC Radio 1 and 1Xtra - if you miss us you can listen back here.