Blossoms: 'We've gone up a level' with new music (and hotels)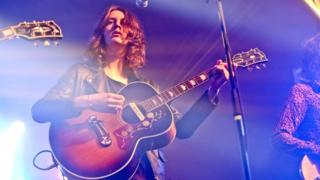 Blossoms say they've gone "to another level" as they prepare to put out their first new music for 18 months.
Their new track, I Can't Stand It, is the first single taken from their second album Cool Like You.
The band is coming to terms with the pressures of following their early success, being put in the same league as some of their heroes and being able to stay in (slightly) nicer hotels.
Their self-titled debut album spent two weeks at number one in the UK, earned them a Mercury Prize nomination and took them around the world.
"We're just itching to go," singer Tom Ogden and drummer Joe Donovan say simultaneously.
Tom adds: "We've been practising and eating copious amounts of Greggs, now we're ready."
'Same team, same cups of tea'
After touring the world for the best part of two years, they've "outgrown" the practice room at a scaffold yard where they worked on the first album.
They've moved to a new rehearsal space in Stockport, which of course they've Christened "the new yard".
Speaking to Newsbeat in the new space, Joe says: "As soon as we had time off we came and sorted this out. We've been coming in here every day.
"We wanted to make sure that when we came back, the new stuff was as tight as the first album."
Cool Like You was recorded in the same studio as their debut with the same producers, James Skelly from The Coral and Rich Turvey.
"It was the same formula," says guitarist Josh Dewhurst.
"The same team, the same cups of tea, we did upgrade the hotel though."
Tom adds: "It wasn't the swankiest thing you can imagine though.
"We've gone up from a Travelodge to Adler.
"After that you go right up to the premium ones, we've just entered the one above Travelodge."
'You must write on me'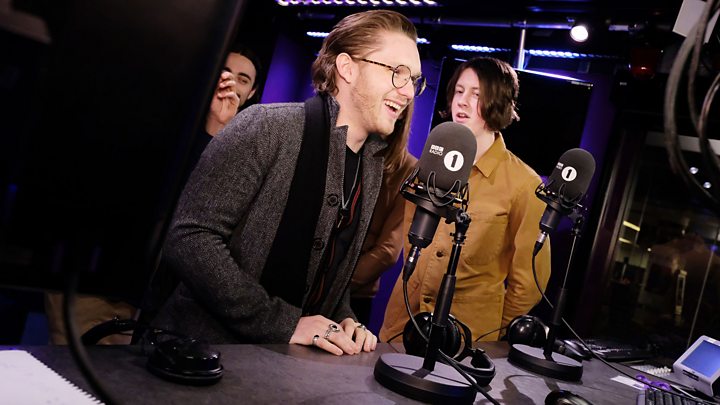 But Tom admits the band felt "a bit of pressure" when it came to writing album two.
"We supported Jake Bugg in Europe and I was going under in Barcelona.
"I was thinking 'I'm in the middle of Europe and we're touring non-stop, when am I going to write new songs?'
"There was a keyboard in the dressing room and it was like it was saying 'You must write on me... You've got to do it again.'
"I think you'd be mad not to feel pressure after a number one album and things are getting bigger.
'Surreal' being alongside heroes
Blossoms will play at several festivals this summer along with other acts who are due to return this year.
"At all of them, our name is in big letters near Arctic Monkeys and other bands," says Tom.
"It's nice for people to put us in the same breath as bands like that, it's just surreal. They're the kind of moments you've just got to enjoy."
Joe adds: "Last time out we were flying the flag as a new band. I've spoken to people in bands in Stockport and they've said seeing us has made them think they can do it too. I really like that.
"This time we've got to another level. Obviously we want to keep getting bigger but we've got to a new level now where we fit in.
"What we feel about the Arctic Monkeys, we want a band to feel like that about us one day.
"Once you've had a taste of it you want to keep getting bigger, that's why we're here now."
Follow Newsbeat on Instagram, Facebook and Twitter.
Listen to Newsbeat live at 12:45 and 17:45 every weekday on BBC Radio 1 and 1Xtra - if you miss us you can listen back here.