Jay-Z and Cognac: How booze made him world's richest rapper
By Rick Kelsey
Newsbeat reporter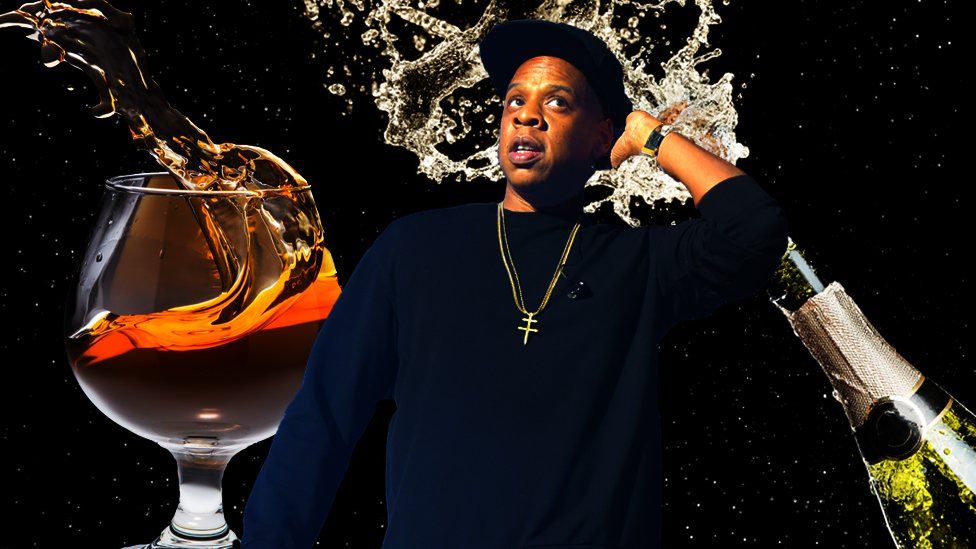 Jay-Z's taste for a French brandy is one of the main reasons he's now the richest rapper for the first time.
Once something lost in the back of your parents' booze cupboard, Cognac has seen its value rise.
Over the last few years Jay-Z has heavily invested in the drink, which is often seen in hip-hop videos, and it's worked out well for him.
Around the world people are drinking more of the stuff - with more than a 10% growth in a year.
And brandy is not the only tipple Jay and Bey like the taste of.
They have investments in the Armand de Brignac Champagne, which has also seen rising global sales.
The combination of hip-hop and the alcohol business is not a new thing.
P. Diddy's investments in Diageo's Ciroc vodka have made him a fortune in the last five years.
Jay-Z released his latest album 4:44 in 2017.
He saw his net worth jump from $810m to $900m (£590m - £655m) in the past year, according to Forbes.
The magazine's list of wealthiest hip-hop stars began in 2011.
Diddy fell to second on the list with a value of $825m (£600m) with Dr. Dre in third.
Dre's extra-curricular investments are not in booze though.
Headphones brand Beats has pushed up his bank account massively in the last three years.
Eminem is in joint fourth with Canadian musician Drake - the only non-US rapper on the list.
Hip-hop's wealthiest: The top five
2. P. Diddy - $825m (£600m)
3. Dr. Dre - $770m (£560m)
=4. Eminem - $100m (£72m)
Forbes produced the list by looking at past earnings and financial documents, valuing current holdings, and talking to analysts, lawyers, managers and other industry experts.