Tom Middleton: DJ's album is designed to send you to sleep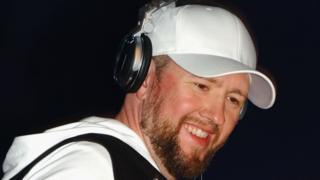 "I actually don't want you to listen to this music".
Tom Middleton might be the first musician ever to use those words while promoting a new album.
As a touring DJ, he's played to over a million people in 49 countries - opening up for the likes of Kanye West, Lady Gaga and Snoop Dogg.
But after delving through years of scientific research Tom has made a different sort of record - one designed to disengage its listeners and send them to sleep.
Tom's career started in the 90s, when he was collaborating with the likes of Aphex Twin and Mark Pritchard. He's been producing music under a variety of stage names, including Reload, Cosmos and The Modwheel, ever since.
"Through my years of touring I've suffered from insomnia myself," he told Newsbeat.
"You could start at four or five in the morning, play a two or three-hour set and then there might be an after party."
He says that's what inspired his new venture - which has seen him work alongside cognitive neuroscientists.
"I felt I could bring my electronic music and chill out projects, re-think what I was already doing intuitively, and then use science to create soundscapes that actually relax you."
The songs are designed to slow down the listener's heart and respiration rates, as well as lower blood pressure - which should produce a calming effect and help you drift off.
"The stuff that's on the market at the moment has never really been scientifically tested - it's not based on real science," Tom says.
"I thought it would be really interesting to actually look at what research has been done, what sounds have been known to be effective and what noises have been tested.
"Then I added that to the intuition I'd developed of playing at chill-out festivals and clubs over all these years."
So does it actually work?
"We've actually had to add a disclaimer - 'don't listen to this while driving, operating machinery or submerged under water'," Tom laughs.
"So far it's been pretty effective. When we've tested it we've noticed heart rate is reducing and people are falling asleep.
"The mastering session to create this album was the most challenging of my life - and the mastering engineer swore at me afterwards.
"She said 'I can't believe you forced me to do that - it was the most difficult and challenging critical listening I've done in my entire career'."
Follow Newsbeat on Instagram, Facebook and Twitter.
Listen to Newsbeat live at 12:45 and 17:45 every weekday on BBC Radio 1 and 1Xtra - if you miss us you can listen back here.