Rachel Dolezal: 'Transracial' woman's son resents her choices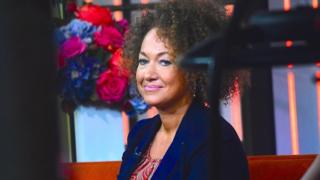 The son of a white woman who identifies as black says he resents some of his mum's choices.
Rachel Dolezal spent years pretending to be a black woman, even though both of her parents are white.
"I resent some of her choices and I resent some of the words she's spoken,"her son Franklin says in a trailer for a Netflix documentary.
Rachel, a former civil rights activist, became infamous in 2015 when her parents said she was actually white.
Filmmaker Laura Brownson followed the family for two years.
In the short clip Franklin, Rachel's biological son, reveals how he feels about his mum identifying as "trans-black".
"She did not choose her words carefully. It affected me, it affected my brother.
"The more I hear about it and talk to people about it, the more it just drains me."
The spotlight was shone on Rachel in 2015 when her parents said she was a white woman passing as black.
Before that she had been a civil rights activist and part of the National Association for the Advancement of Coloured People (NAACP) in Spokane, Washington.
She was also a former Africana studies instructor.
Rachel faced a lot of criticism when she eventually admitted that she was "Caucasian biologically", but says she sees herself as "trans-black."
She's previously said "the idea of race is a lie" and has argued that a concept of "transracial" - similar to that of transgender - is useful in describing people such as herself.
In the trailer, an emotional Franklin says he does "not want to focus on this for the rest of my life".
And he seems against the idea of a documentary.
"This book coming out and this documentary might just backfire, like everything else has backfired."
The documentary's announcement has provoked quite a strong response.
Rachel says that "by doing this film we're taking this risk, I'm putting my kids out there, it's hard".
But others feel she shouldn't be receiving screen time.
Netflix says Rachel Dolezal did not receive any payment for the project.
Follow Newsbeat on Instagram, Facebook and Twitter.
Listen to Newsbeat live at 12:45 and 17:45 every weekday on BBC Radio 1 and 1Xtra - if you miss us you can listen back here.